Chrome and Firefox include HSTS feature that prepares a list of the websites with HTTPS. The browsers don't allow to access the sites available in the list unless you type https in the address bar. As a result, when you write simply domain name with or without www the webpage becomes unavailable moreover, flashes different errors like "Your connection is not Private", You cannot visit…" and so on.
Fortunately, these browsers give a way to fix HSTS Error. When you exclude the domain name from the HSTS Chrome and Firefox lets open it without typing https into the address bar. We will present the process for both browsers, so, see ahead – You can follow the rectification of a similar hardship – 'This Connection Is Not Secure' During Login to Non HTTPS Sites on Firefox
HSTS Error in Chrome and Firefox Workarounds
1. For Chrome
Step 1 – Copy the path chrome://net-internals/#hsts paste into the Chrome address bar then press  Enter. On the HSTS Setting page of Chrome, locate Delete domain section.
Step 2 – Type the problematic domain name in the box as shown in the following screenshot then select Delete. Now the webpage will load normally and the HSTS error in Chrome will no longer occur.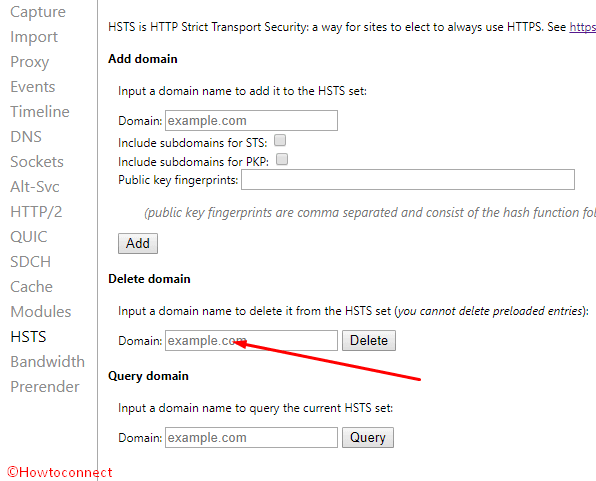 2. For Firefox
Step 1 – Close all the running tabs in the browser and press Ctrl+Shift+H. As a substitute, you can click History from the uppermost menu bar furthermore choose the option "Show All History" from the drop down list.
Step 2 – Find the domain name for which you want to delete HSTS data. Perform a right click on and choose Forget about this site option from the context menu.
In addition, you can delete the HSTS domain data manually from Windows operating system. Open File Explorer and locate about:support in Firefox folder.  Delete the line in which the troublesome domain is listed then save the file. Finally, HSTS error in Firefox will be solved.
About HSTS
HSTS is a feature of Web browsers to ensure the security of security certificate holding sites. It prohibits the domain name from loading for the requests other than https. HSTS full form is HTTP Strict Transport Security and it prevents invaders from protocol including cookie hijacking.
HSTS settings comprise a "max-age" informing the browser about the time of cache.  After this time the browser needs to check the webpages again.
Conclusion
The workarounds will Fix HSTS Error in Chrome and Firefox browsers hopefully. This is more helpful to those whose website fails to load saying you cannot visit domainname.com because of the HSTS.