Presently Android mobile OS is being used broadly with 100 % satisfaction results by its users. The Android OS is denoted in the category of smart phone. performance of a smartphone is really awesome. But,  sometimes Android Phone user forgets to maintain his Android handset, and it is necessary part of any mobile phone. For example – If you don't remove unused apps from smart phones, your Android device slows down, and speed becomes so dull that you can't operate.
But, solution is at your door. Various apps are available at Android apps store in order to remove unused apps. Although in these apps maximum apps are useless. Therefore I have selected a free app named Useless Apps Remove (UAR) to delete useless apps.
Features of Useless Apps Remover (UAR) App –
You can identify and wipe out unused apps from Android devices in extremely trouble-free process with this app.
This app informs you about particular apps which you have never use.
The user interface of Useless App Remover is straightforward and plain. It registers every third-party installed apps on single screen.
You will be able to delete button promptly specified adjacent to the every app title. Here you can blacklist definite app by checking the box to get rid from any upcoming troubles.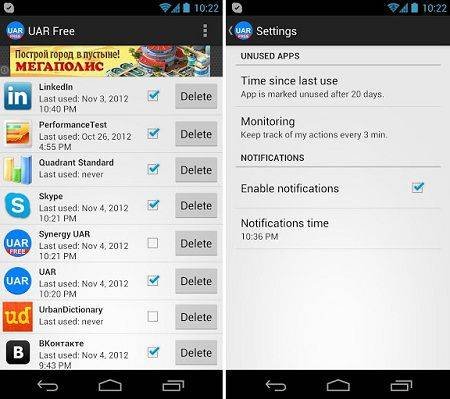 Download UAR App from Google Store ( Free of cost)
Download UAR App From Google Store ( Paid Version)