Microsoft has released Cumulative update KB4284848 for Windows 10 April 2018 Update Version 1803. The package is for OS build Build 17134.137 and includes multiple important quality improvements and fixes. Microsoft addresses streaming, SmartHeap, App-V, DNS server, DHCP, SMBv1 protocol, and Edge browser issues in this update.
You can download KB4284848 Windows 10 April 2018 Update Version 1803 Build 17134.137 using the Standalone on the Catalog or through Windows update.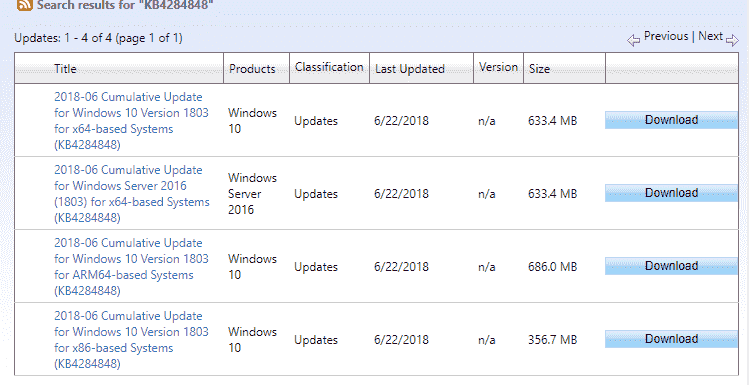 Let's see the detail and ways to download –
KB4284848 Windows 10 April 2018 Update Version 1803 Build 17134.137
Fixes and Improvements
Windows 10 team addresses Video Settings HDR Video streaming calibration slider to stop working problem. Some OEMs set up creates conflict with the panel brightness intensity that ends up with this trouble.
Microsoft checks streaming compatibility with the live TV streaming content providers so that the issue can be resolved.
Developers work on Windows 10 April 2018 update version 11803 issue where media content previously generated by Media Center doesn't play.
They focus on SmartHeap didn't work with UCRT problem.
Windows 10 team is working to fix performance regression in Application Virtualization displaying multiple actions.
Microsoft addresses Appmonitor ceases to function at logoff if the Settingstoragepath is set incorrectly problem.
They also take on Appmonitor stop working at logoff, moreover, and user settings are not saved issue.
Windows 10 team tries to fix client applications running in a container image bug that doesn't conform to the dynamic port range.
Microsoft is active to solve DNS server problem that might stop working when using DNS Query Resolution Policies with a Not Equal condition.
Windows 10 developers work to fix T1 and T2 custom values after configuring DHCP failover.
They are trying to resolve Google Chrome version (67.0.3396.79+) that stops working on certain devices.
Microsoft is engaged in solving Remote Desktop client pop-up windows and drop-down menus problem that doesn't appear and right-clicking doesn't work correctly. These issues occur when using remote desktop applications.
Windows 10 team is trying to settle Remote Desktop connection does not read the bypass list for a proxy that has many entries.
The developers address Microsoft Edge doesn't work when it initializes font downloading from a malformed URL.
Microsoft works to resolve SMBv1 protocol problem. Because of this issue, a few users receive an error when accessing files or running programs from a shared folder. The error message is as "An invalid argument was supplied".
Windows team of Microsoft tries to fix Task Scheduler tasks configured with an S4U logon to fail with the error "ERROR_NO_SUCH_LOGON_SESSION/STATUS_NO_TRUST_SAM_ACCOUNT".
How to get KB4284848 KB4284848 Windows 10 April 2018 Update Version 1803 Build 17134.137
There are 2 methods download and install KB4284848 for Windows 10 on your system – Through Microsoft update catalog website or via Windows update.
Through Microsoft update catalog
To download KB4284848 for Windows 10 April 2018 Update Version 1803 go to – Microsoft update catalog. Ensure the bit of your system and download the MSU file accordingly. Restart your PC to complete the installation.
Via Windows update
Press Win+Q, type Windows update and then hit Enter.
Click on Check for updates and allow the system to download and install KB4284848 by following instructions
If you are installing both the servicing stack update KB4338853 and KB4284848 from the Microsoft Update Catalog, remember to install the SSU before the LCU.