Cumulative update KB4469342 approaches Windows 10 version 1809 in the Release Preview ring. Microsoft pushed the same patch on Nov 16, 2018. However, the tech giant hasn't provided a release note for the cumulative update yet; we hope this is pending and will include some significant improvements and fixes. After this update, Windows 10 Version 1809 OS build has changed from 17763.1675 to 17763.167
You will get KB4469342 automatically on Windows 10 V1809.  The MSU file of this patch is not available till now on Microsoft update catalog.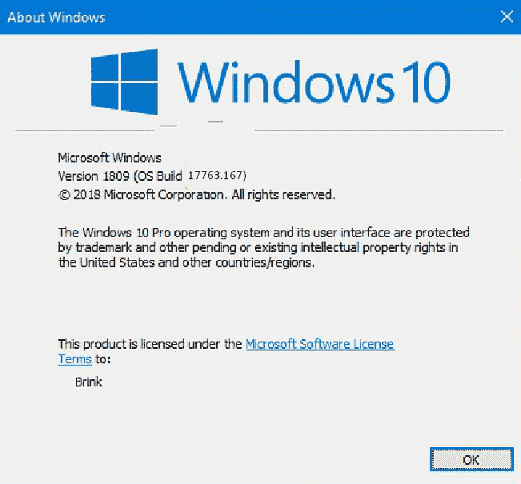 KB4469342 for Windows 10 1809 OS build 17763.1675
Some users such as WZor has tweeted about the KB4469342 cumulative update.
As per Assumption, Microsoft has included additional fixes for Windows 10 version 1809 in this patch. Microsoft is trying to test the update with help from insiders before a potential release sooner or later in the coming days.
"Public rollout later this week"
There is no Knowledge Base page to provide us with a closer look and what KB4469342 fixed or improved. Therefore, all you need to do is just wait until Microsoft releases new updates for public users.
As usual, Microsoft will roll out patches on the second Tuesday of December; you may expect this update to arrive in next month. However, Microsoft promised to fix some specific issues in Windows 10 version 1809 with upcoming cumulative updates coming in late November, so you're more likely getting closer to the moment the rollout would begin.
Also, the re-released of KB4469342 may just for helping Microsoft to finish final last round of testing. Just after this Microsoft will push a cumulative update that includes fixes to all devices running the Windows 10 October update 1809.
Multiple users have encountered Windows Media Player bug and other issues on this version so they may have been taking account and delivering the patch.  We are also looking for what issues the next cumulative update is going to address, but as Windows 10 1809 users passed the hard way recently, there's a lot to improve in this update.
That's all!!!