Another Patch Tuesday here with the cumulative updates is KB4485449 SSU / Servicing Stack Update for Windows 10 1803 for Feb 2018. This will replace 4477137 and offer some quality improvements to servicing stack components. SSU is important to the extent you might have already read this with most of the cumulative updates release notes from Microsoft. Developers recommend downloading Service stack updates before you get the LCU on your system. In simple words, the latest SSU would offer additional protection against things that could go wrong while installing updates.
Basically, the purpose of Service Stack Updates is the further improvement of the update installation process on your OS. An SSU typically updates the CBS or Component Based Servicing which is responsible for the execution of the installation process. There are not prerequisites for getting this patch. If you'd like to know more about Servicing stack Updates, you can check out Microsoft's support source for SSUs.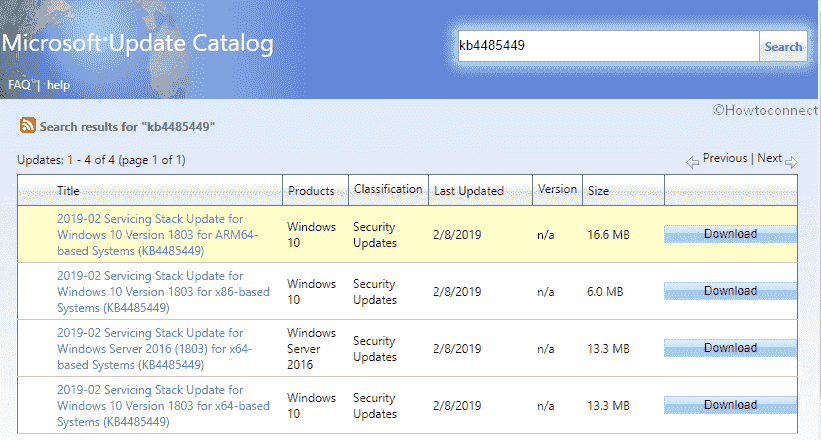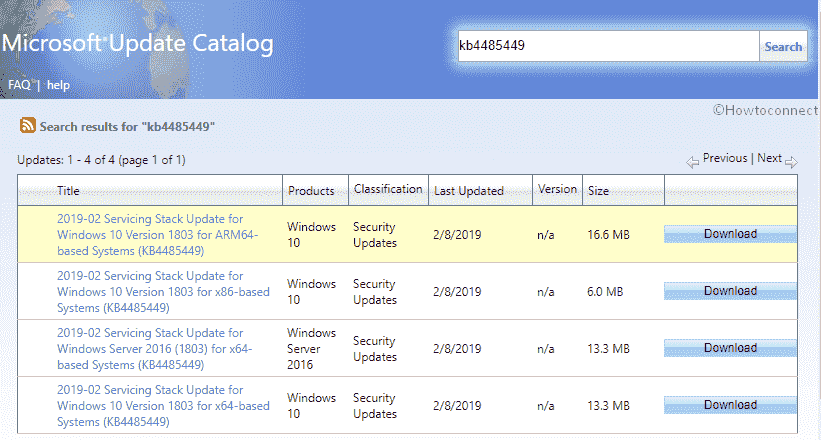 KB4485449 SSU / Servicing Stack Update for Windows 10 1803 Feb 2018 Details
It is recommended to keep the servicing stack up to date on a device. There are two ways that you can install the latest KB4485449 SSU for Windows 10 version 1803 –
#1: Automatic updating through Windows Update
There are no steps involved here. Your system will itself receive and download the latest SSU available for your OS version. Just ensure that you haven't either delayed or disabled automatic installation of Windows updates via settings. Given that your device has the previous updates and fixes intact, it would receive only the new fixes.
#2: Package downloading via Microsoft Update Catalog
You have also the ability to get the servicing stack update standalone package from the Microsoft Update Catalog site. To download KB4485449 go here and match the specification of your device with the files. Click Download and let a separate page appear.  Finally, select the solitary link and install after the standalone download is completed.
That's all!!!
Source – Release note.