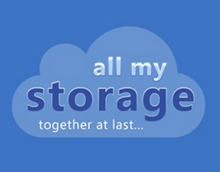 We have written posts on SkyDrive for its efferent features and tips as to Access Skydrive with Gmail Account, to Create and Share an Office Document via SkyDrive, etc. Today we are going to discuss managing Multiple Online Backup Accounts (Dropbox, SkyDrive) in Windows 8. In Windows 8 store, Dropbox app was not available. But now It controls files via the windows 8 offered latest user interface features. This app gives you right of entry in SkyDrive and Dropbox storage easily through metro screen.
Adding Multiple Online Backup Accounts in Windows 8
First Step
Download and Install All My Storage app from the Windows 8 Store. Presently this app is free of cost.
Download All My Storage app
Now start this app from metro screen after installing successfully it.
Then press right-click anywhere on the app screen and it brings the menu bar at the bottom.  Now click on the Manage Accounts option.
In the next window click on this option Link New Account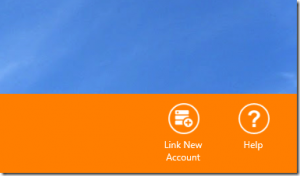 Second Step
This app will bring three options to select storage online backup as follows –
Local drive partition of your computer.
USB storage media.
Dropbox and SkyDrive account.
If you select local drive of your computer, then you have to browse folder and import the information in current open app.
To set up a cloud account, choose the service from the drop-down list and click on Link button.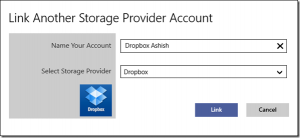 Now this app will request you to insert your username and password of windows 8 signed live account. Then app will automatically examine the data and connect the SkyDrive account quickly.
At last, confirm your account inside this app to access and add them.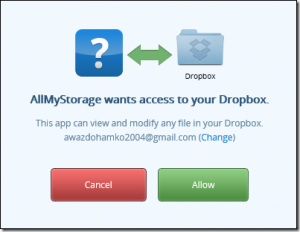 Thus, you can now handle all your files on the cloud from this app itself. You can simply upload new files and download them. Via this app, you can also add and control multiple Dropbox accounts.

This app reads the Microsoft account details for connected accounts in windows 8. With local accounts in Windows 8 you can add several accounts for SkyDrive. However, a portable Dropbox is used to control multiple accounts in Windows 8 at a time also. So, All My storage app has been shortened for superior coverage.