In recent past, I have updated a post as how to How to upgrade Hotmail account into Outlook.com. Today when I log on my Hotmail.com account, it is changed automatically into Outlook.com. I got surprised how my present Hotmail account appearances were looking awesome in outlook.com. Microsoft also sent a notification for the purpose. Now you also can upgrade as outlook.com of your present Microsoft account (Live, Hotmail) in an easy way. We have written tips on different features of outlook.com as How to Convert Gmail in Outlook.com, but here in Hotmail is the issue.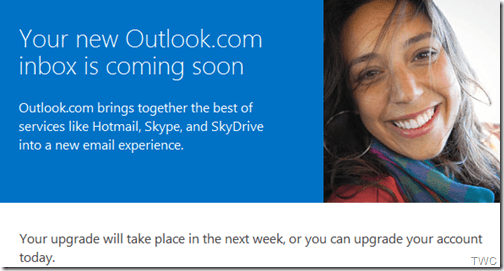 Outlook.com has been offered as special webmail service by Microsoft on August 2012. It is modern cloud email services. It also presents an option to connect and share link with social sites (Facebook, Twitter, and LinkedIn) which is one of the best features.
How to upgrade to Outlook.com from present Hotmail account?
If you want to upgrade your present Hotmail account into latest mail service outlook.com then follow below tips:
Firstly login your Hotmail.com account from this link- Outlook
From top right corner, click on the Options menu.
Then you will have to click on this option- Upgrade to Outlook.com from drop down menu panel.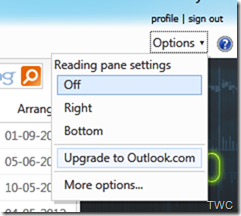 Can you switch back to Hotmail account?
If your Hotmail account has been upgraded into Outlook then there is no chance to return in the previous appearance.