Microsoft has recently added Otters Windows 10 Theme in the official store. This personalization app is an opportunity for those who love and adore animals. Inside the theme, there is a set of 12 images that can be used as desktop wallpaper only. These 4k pictures comprise a glimpse of splashing Otters that will melt your heart with their cuteness. This theme can be installed on ten Windows 10 device by using the Microsoft account.
Otters Windows 10 Theme is a very user-friendly app and occupies around 38.82 MB of space on your hard disk. The app is applicable for the users of all ages who use English (United States) as the default language. Although, your device must meet some basic requirement.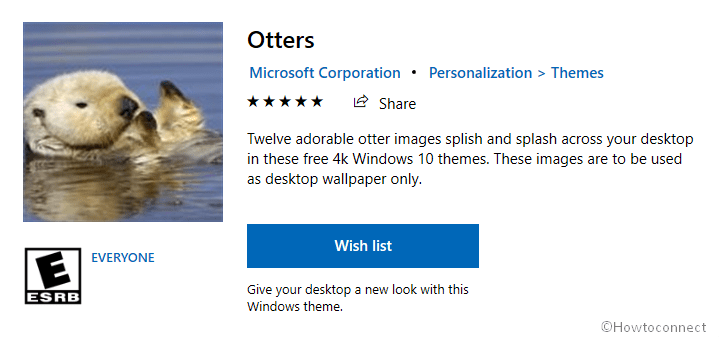 Otters Windows 10 Theme
Here is How to download and install and set Otters Windows 10 Theme –
Step-1: Press the Windows key to bring up the Start menu on the display.
Step-2: Click on Microsoft Store tile, from the right side to launch the app.
Step-3: Upon appearing, type Otters in the Search box of the Store app and press Enter.
Note – Alternatively, you can also navigate to the Microsoft official page and click on Get button from there will also take you to the Store page of the theme.
Step-4: Again, click the Get button from the Windows 10 Store interface.
Step-5: Wait for some time and let the system download and install the Microsoft theme. Once it is done, click the Apply button.
Step-6: This will immediately open the Themes Settings page on the PC screen. Move to the right pane and select Otters Windows 10 Theme from there.
You are done!!
System requirements
In order to get and use Otters Windows 10 Theme, your PC requires to fulfill certain system requirements. They are –
A device with Windows 10 Operating System that is running 14951.0 version or higher.
The system architecture should be either x86 or x64 or ARM or ARM64.
That's all!!!