Pay PSPCL Bill online – Use of Online Payment System of utility bills saves your precious time. Because in traditional method of payment of bills is very difficult, in this offline method customers have to go to the billing counter of relevant office and stand in a long line and wait for paying bills. It is very tough work.
But nowadays it has been very easy and comfortable. With the help of internet, utility bill can be paid from anywhere and anytime. This method is online payment system. In this method, it is not needed to reach the office. you can make online payment from your home.
Punjab State Power Corporation Limited (PSPCL) has also offered online payment facility to its consumer.  Consumers of Electricity in Punjab (PSPCL) can pay their  bills using their Internet banking, debit or credit card facility. To make payment in PSPCL through this system one should follow the tips as written underneath.
Way to Pay PSPCL Bill online
1. To Pay PSPCL Bill online firstly, go on online payment page of official website of PSPCL through the link given below
http://www.pspcl.in/docs/online_bill.htm
After pressing the above link, a page will be shown like this —

Here, you have to click on online payment option . After pressing this option, a page will be display on the screen like this —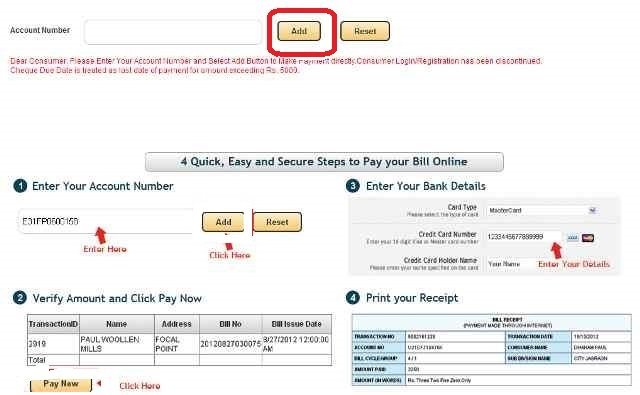 2.  At this page insert your  Electricity consumer account number and press on Add for making  online payment.
3. Now enter your account number and proceed. Here, you can view your  electricity billing account details. click on 'Pay Now' for payment.
4. After this step, you have to fill your Bank account details as for credit card type, number and Name and follow the steps as given there.
5.  Now you can see your payment details. you can print this for further use and record.
Any enquiry related to online electricity bill payment can be known through email id —
pspcl-e-payment@pspcl.in