How to Fix Restart Required to Cast to Device in Windows 10 – When users try to connect to TV to Stream media they get unsuccessful, but after a reboot of PC they can perform the same quite efficiently. If you also encounter the identical mess up on your machine then be ready to settle by following the methods to fix Restart Required to Cast to Device.
How to Fix Restart Required to Cast to Device in Windows 10
Hardware and Devices Troubleshooter
Cortana search bar is observable on your taskbar, write "Troubleshooting" and click on the identical result on the top.
Troubleshooting will arrive, look at the left flank and click or tap the link "View all".
In the resultant interface, you spot various columns, look for "Hardware and Devices" in the "Name" column, click on it.
Tap "Next" button in the subsequent troubleshoot box.
It will start detecting the troubles and thereafter based on the trouble, follow the on-screen prompts to fix the issue.
Task Manager
Open Task Manager by performing a right click on an unoccupied slot on the taskbar and selecting the choice entitled as "Task Manager".
More details arrow mark directing downwardly is visible at the bottom left of the "Task Manager", click it (the details will be visible once it is opened).
Windows Digital Media Controller Application exists in the column of Processes tab, in the applications section. Right click and select "End task" .
In the Services tab, right-click on Cast to Device Service and click or hit the "End task" option.
Note – Make sure that you must stick to the order of terminating the services as written in the above steps. First, you require closing Cast to device and then only go ahead and terminate the media application.
Media Streaming Options
For this method, you need to launch "Settings program", so collectively strike the combination of "Windows and I' keys.
Find a setting search box will is observable on the application, type media streaming and from the presented results, hit the one that reads as "Media Streaming Options".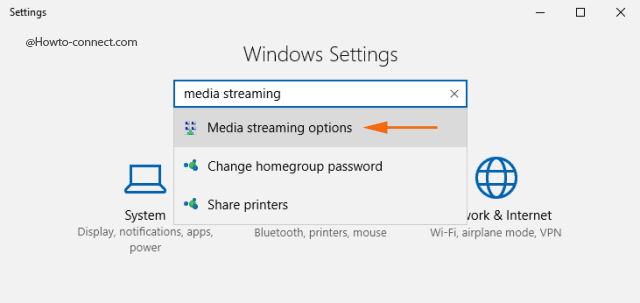 The Media Streaming Options will arrive where you can notice and spot your device and also ensure to Allow all of them.
Customize link will be observable for each and every visible device, get into the link.
Use default settings option is present for every device, make sure that it is unchecked. Mark the option that is labeled as Make all of the media in my library available to this device, and also, Allows all the ratings in the customization interface.
There will be no Restart Required to Cast to Device in Windows 10 hereafter and the casting will be executed accurately without a crash, mess up or reboot.
A substantial number of users have reported that especially after upgrading to Windows 10, the cast to device refuses to work accurately, however, a little experiment revealed that the service works after the machine is rebooted.