Though Windows 10 November 2019 Update 1909 was released with an intention to fix the existed troubles, unfortunately, bugs and issues didn't leave this version alone too. Several problems have been reported already including update errors, unease networking systems, activation difficulty, accidental restart and a lot more.
To eradicate these kinds of issues right away, you need to research a bit and find out the perfect solution for the same which is pretty much time-consuming. In such an instance, you can Rollback Windows 10 November 2019 Update 1909 to recover the previous version moreover avoid unwanted bugs.

Rollback Windows 10 November 2019 Update 1909
Here is How to Rollback Windows 10 November 2019 Update 1909 –
The most convenient way to get back the older version of Windows 10 is by making use of the Recovery option.
For that, open Windows Settings and head over to Update & Security.
Choose Recovery from the left column and then pass to the adjacent right.
Click Get started button. This is positioned underneath "Go back to the previous version of Windows 10".
But here is a twist, as the System, which got updated earlier than ten days, the button will be greyed out because Windows automatically eradicate the old update files to free up space. In such circumstance, proceed the below method –
Press Windows key and I at the same time to bring forward the Settings app.
When it became evident, click on Update & Security.
On the concurrent page, shift to the right pane and hit the option named View update history.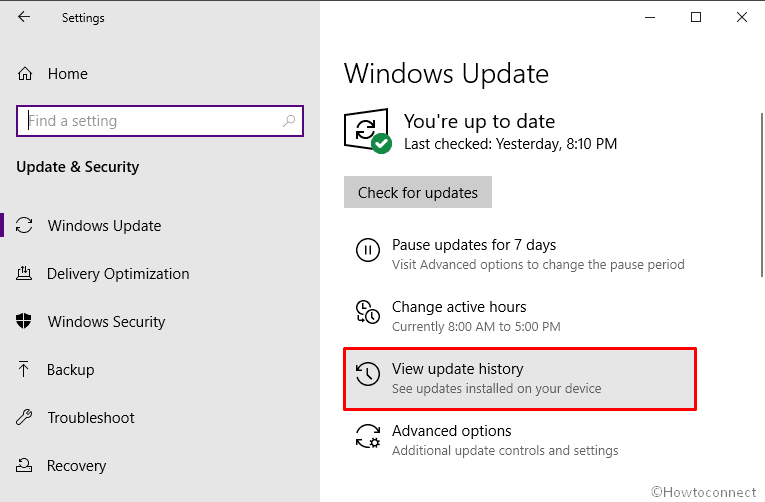 Following that, click the link Uninstall updates.
Once a new window shows up, move down to the Microsoft Windows section and click on the build your system has got for Windows 10 1909 which should be .
Thereafter, click the Uninstall button from the top ribbon and follow accordingly what the system suggests.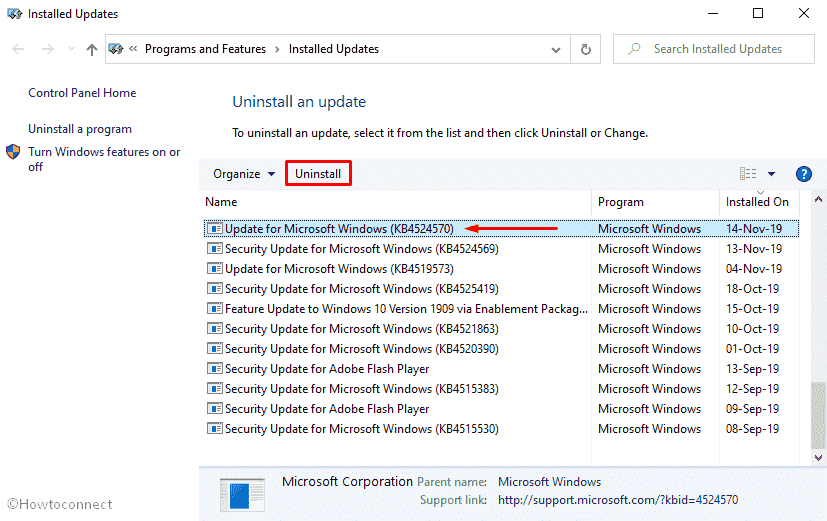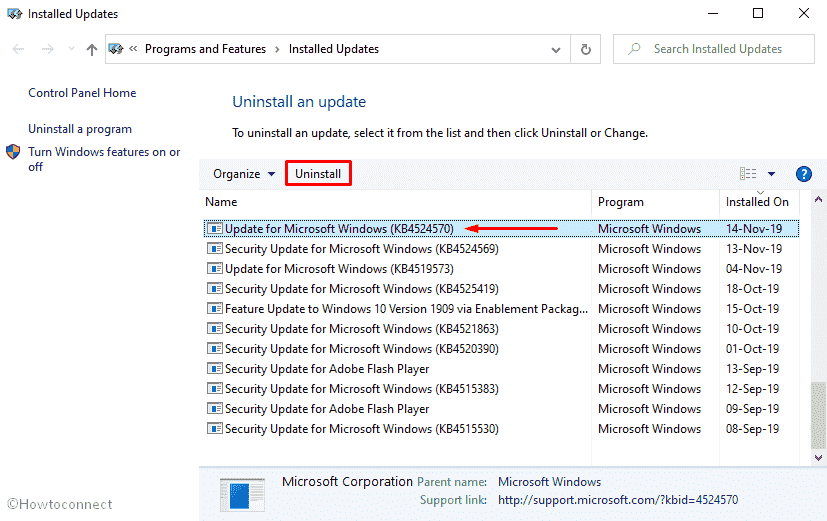 Compilation of posts on Windows 10 November 2019 update version 1909 –
1] Windows 10 November 2019 Update Features and Improvements [1909]
2] KB4517245 to Enable Windows 10 1909 Feature Update
3] Windows 10 Version 1909 ISO [Download]
4] Windows 10 1909 Gets New Sign in Group Policy
5] Windows 10 19H2 will be a Service Pack
6] List of New Services in Windows 10 October 2018 Update
7] KB4517211 for Windows 10 18362.385 v1903 and 18363.385 v1909
8] Windows 10 1909 Changelog
That's all!!