Procedure to Save Themes for Sharing on Windows 10 with Steps. – Have you ever made your own theme on your device? Windows provides you with an option for creating your own theme and personalizing your desktop. This facility is provided right from Windows 7. Then what's new in Windows 10. In Windows 10 you can not only create but also share your themes. Now I am sure that you would like to know the process of sharing themes. See One more guide on the similar topic is How to Save Windows 10 Custom Theme.
This article will tell you in detail about how to save themes for sharing in Windows 10. If you are looking for sharing themes then the first make sure that you possess at least build 15014 of Windows 10. Now follow the step by step guide below. To learn the methods regarding How to Delete Installed Themes in Windows 10 read this article.
Methods to Save Themes for Sharing On Windows 10
Step 1 – To reach Settings first click on the Start button. You will find the option of Settings in the Start menu appearing.
Step 2 – Select Personalization. Click on the same. After clicking Personalization you will see a group of Sections in the left pane. Locate Themes and click on this option.
To see all about this category follow Access and Use Personalization of Windows 10 Settings.
Step 3 – Locate Themes in the right pane of the Personalization. Click on Themes and let all the themes loading perfectly in the right pane.
Step 4 –  Right click on the Windows 10 theme you want to share (only custom). You will see Save theme for sharing at the top of the theme tile, select this option.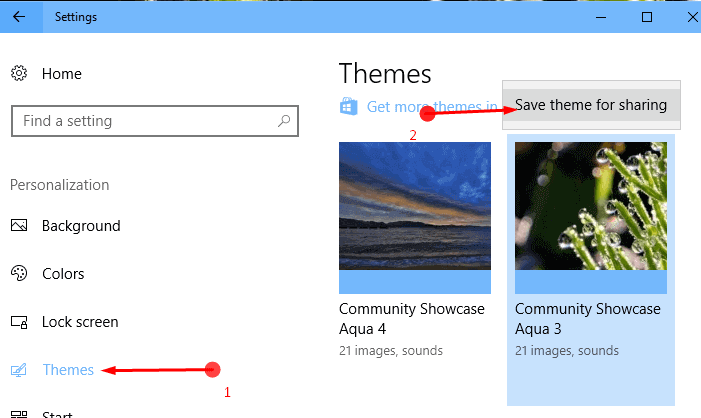 Step 5 – After clicking on Save theme for sharing, a dialog box opens. Enter a preferable name for the theme and then press Save. Try to save on desktop since it will give you an easy accessibility to the theme.
Step 6 – This will display a pop up showing the status of the saving theme in real time. Once it comes to 100%, means that you can now enjoy your favorite theme.
Themes generated and created in a Windows 10 device will be seen only in another Windows 10 device. It means that the machine with which you will share the themes need to be compatible with Windows 10 in order to view.
It is also worth mentioning here that only those themes that you will download from other sources can be shared. You cannot share any default theme of Windows 10.
Final words
On Windows 10, you will be able to pretty easily Save Themes for Sharing On Windows 10 using this method. You can get awesome and cool themes from the Store as Windows 10 using the option included in this section. So download save, share and enjoy.