Windows 8 is equipped with windows reader which lets us to view PDF files using metro interface. on the other hand, Adobe has also released Adobe Reader app a few days back. Some windows 8 fans wish to access the Adobe Reader app as default PDF viewer instead of integrated windows reader. Because Adobe Reader app offers advanced tools to read or view PDF files. But it is tricky process while we want to set the Adobe Reader app as the default PDF reader.
We will assist to set the Adobe Reader app as the default PDF reader app on Windows 8 here with tips.
First Step
Launch start screen and press shortcut (windows key + F) to bring up search charms.
 Type "Default" in search box. Then search results in left side, click on default programs option.
Second step
A Default programs named window will appear on desktop screen. Here, click on the link – Associate a file type …………. a Program.
Now a new pop-up window named Set Associations will launch. Here look for pdf on list under name section and click on Change Program option.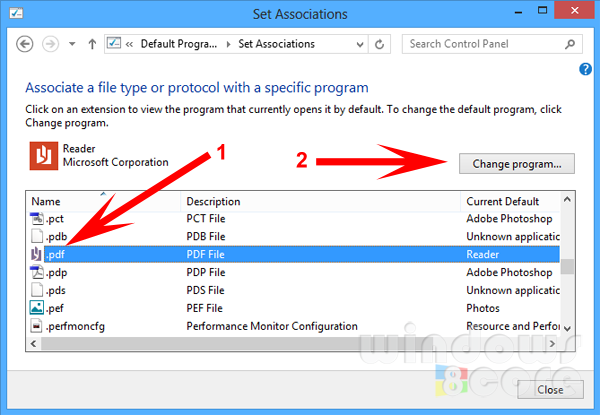 Third step
Then another pop-up will appear and it is requesting with message like How do you want to open this type of file (.pdf) ?.  At this point, click on Adobe Reader from the suggestion lists.
Thus Adobe Reader app would be set as default PDF viewer app in Windows 8.