Procedures and Steps for How to Sort Desktop Icons On Windows 10 – Several options help icon arrangement on Windows 10 (including previous editions). In the Similar way, an option 'Sort by' is available on the desktop Context menu to define the order by which you organize them. Using these options, you can sort desktop icons alphabetically, sizewise, modification datewise. See a few methods in a guide to Auto Arrange Icons on Windows 10
Windows 10 allows arranging Desktop icon by 4 methods. All the methods are quite easy as only 2 clicks perform the whole work. The context menu offers Sort by option including a submenu. 4 options on this submenu help to sort, shuffle, and reshuffle the items.
Sort Desktop Icons On Windows 10
Since 4 tools support organizing the items so you will see the way to use them consecutively.
Step 1 – Right click on a vacant location somewhere on Desktop and Hover (place) the mouse cursor over Sort by.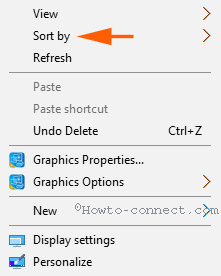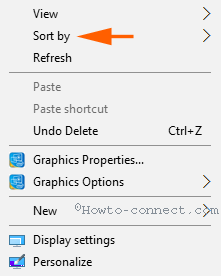 Step 2 – A submenu opens promptly showing 4 options, click which you need.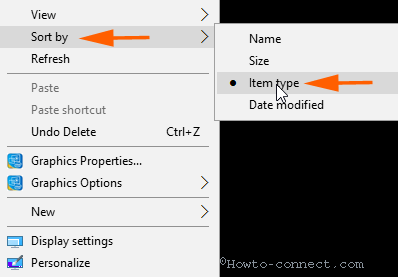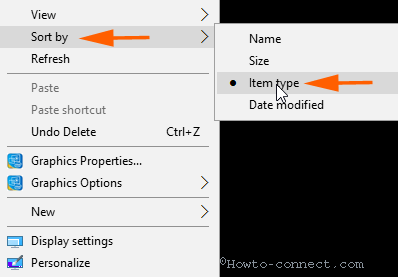 Sort by Submenu Options
Name – Name, the first option on submenu, sort desktop icons alphabetically.
Once you click Sort by  => Name, the items become visible in ascending alphabetical order (A to Z). But it sorts desktop icons by name Windows 10 in falling order on when you click the same second time.
Size – This option sorts the icons relevant to increasing size. Items containing smaller size come first and bigger size later.
The first time you click Sort by  => Size, icons become arranged by Increasing Size and by decreasing size when you click the same second time.
Item type – This option arranges icon in accordance with the nature of items.
System files folders and files come first, then third part setup and lastly third party files and folder.
When you repeat the same thing means click Sort by  => Item type then they are arranged into opposite way.
Date Modified – As the name suggests, this option organizes desktop icons on the basis of the date of modification of items.
Once you make a variation in an item it will be reshuffled and changed to the last place on Windows 10 simply. The items systematize in inverse order (last comes first) when you click Sort by  => Date Modified secondly.
You find one identical thing in all the menus – items arranged by clicking first time are inverse to the second time clicking.
To Sort Desktop Icons On Windows 10, you can learn with the below-given animation.
Conclusion
These are the procedures to Sort Desktop Icon On Windows 10. Contextual menu option works nicely in this regard. We hope you will effectively use the tools for arranging icons on yours.