Sound Blaster Not Detected error occurs when Windows 10 fails to trace out the Sound card update files. It has regularly been updated but Microsoft's Windows 10 could not identify the Sound Blaster Z even if they are physically connected. Also, simply reinstalling the drivers is doing nothing well. Active users of Windows 10 must be very much eager to know why this error is taking place.
Why is " Sound Blaster Not Detected in Windows 10"?
Sound Blaster has its own compatibility requirements with Windows versions. Microsoft's Windows 10 latest updates, however, miss some of these compatibility features. Failing to detect what it needs to activate, Sound Blaster can't set itself up in Windows 10 latest versions. But since there is nothing that humans can't solve, we tried and tested some measures which proved to be helpful in solving out this issue. See a helpful guide for How to Identify if a Driver is Causing Issues in Windows 10 with Verifier.
The solutions to Sound Blaster Not Detected Windows 10 are simple. You can use them and most importantly they don't need any 3rd-party software installation. So how you can fix this issue has been discussed in the next section.
Solutions to Sound Blaster Not Detected Windows 10
Solution 1 – Uninstall/Reinstall the application
Most of the sound card corruptions/troubles can be solved by this method. So let's start with the easiest one.
Step 1 – Go to the Device Manager and right click on the entry for your "SoundBlaster".
Take assistance of the instructions available in this article – Windows 10 – How to Find Device Manager and Use its Functions.
Step 2 – Left click the entry and click "Uninstall".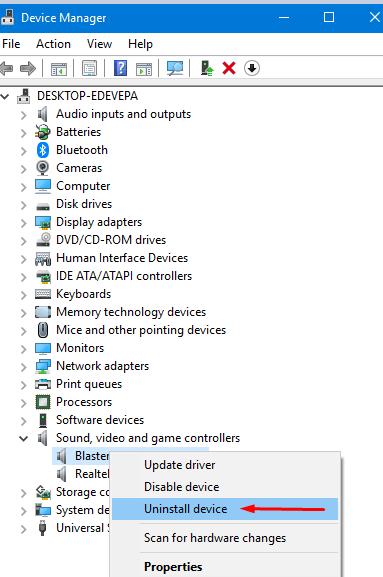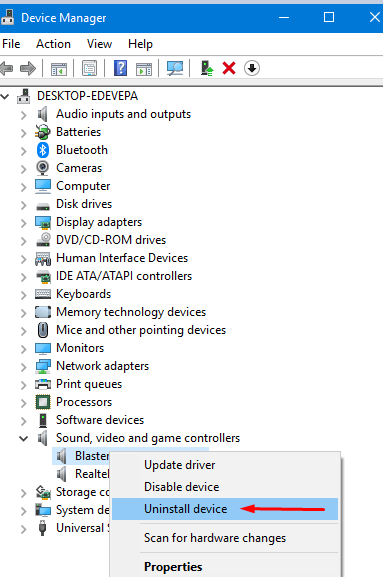 Note – Here, you will find a warning message but don't care and select Uninstall.
Follow an article to learn – How to Uninstall Software From Windows 10 After Creators Update.
Step 3 – Restart your PC and the system will automatically detect all the connected devices including your Sound Blaster.
That's it. Sound Blaster Not Detected Windows 10 will hopefully over now. If not, try the next methods.
Solution 2 – Simply Unplug/Plug back the power cord
Sometimes, the PC hangs up and no longer responds to the fresh devices. In that case, simply unplug the power cord for about 5 minutes and shutdown your PC. Plug in the cord and restart your PC. Your system would now detect the sound card if everything goes right. This is expected to solve the Sound Blaster Not Detected in Windows 10 issue.
Solution 3 – Unplug the Audio Cable
If the system fails to detect the sound card even after the above methods, try this.
Step 1 – Unplug the audio cable, headphones or any sort of line-in connected to the PC/ system. Disable the onboard AudioAdapterr and Fast Boot option in BIOS. You can follow this article as a help How to Turn Off Onboard Graphics on BIOS.
Step 3 –: Plug in the audio cable or connector in the SoundBlaster.
Step 4 – Turn on your PC and it will automatically detect the audio adapter/ Sound Blaster. That's it. This method is more likely to work than other complicated methods to fix this issue. If still, the problem persists, we have one more method in our box. Let's a-box and see what it is.
Solution 3 – Changing the PCI-E slot
The audio adapter rests in one of 2 or 3 PCI-E slots. You need to open the PC case in this method, so check if the system is in warranty and then proceed. If yes, then don't open otherwise the warranty would end.
Open the case, take out the audio adapter and insert it into the other PCI-E slot. Fix the case back and restart your PC. Many users reported that the Sound Blaster Control Panel does not detect any device and the same thing goes on Windows 10 which can't detect any device in its Device Manager section.
This will fix the issue for sure.
Final Words
Sound Blaster is an entire family of sound cards that makes the overall audio experience amazing on Windows 10 PCs. They are very much essential to enhance the overall audio experience we expect from any system. But since there are times when technology fails, solutions are always on the deck. Sound Blaster Not Detected Windows 10 problem is common and takes place with most recent updates. The Solutions we have here are sure-shot in one or the other case. So try all of them before you finally get sure that everything is working just fine with your Sound Blaster. Let us know in case you have more working methods regarding this issue. We are here to help.
Repair any Windows problems such as Blue/Black Screen, DLL, Exe, application, Regisrty error and quickly recover system from issues using
Reimage
.