Baidu introduces a new set of tools and Spark browser based on the Chromium technology enhancing the potentialities of the browser to the web world. Spark occupies a lot of features you might not find on another one whether it is inbuilt torrent downloader, capture screen, media download or browser doctor. Its browsing speed is significantly ahead of other browsers like Google Chrome, Mozilla Firefox, Internet Explorer, and Opera. Using Spark you can convert any video file to MP3, Take a screenshot of webpage or computer screen and much more directly. These features not only enhance browsing experience but renders a platform to perform multitask and utilities.
Read: 
8 Hidden New Features of Google Chrome
How to change Themes in Chrome, Firefox, Internet Explorer, Opera
1. Spark Torrent: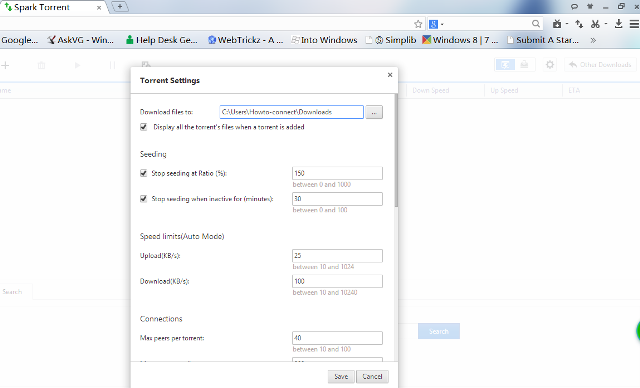 Spark Torrent is torrent downloader in this browser. You need not to have a separate Download manager. All you have to do is to click on Torrent Downloads icon and add URL from where you want to download file. At the bottom part of this page will find Torrent Search Box to search files directly from Torrent.
Capture Screen:
Spark comprises a unique feature Capture Screen to take screenshot of the whole computer screen, webpage and screen without closing browser. To take screenshot click on Scissor icon, a drop down menu hangs down and select your desired option. When screenshot completes a saving option prompts. Save it at your wanted place.
Media Download

Media Download in Spark Browser includes additional options too. Download media files avail platform to download media files and convert video files to MP3 as well. All you need to do is to click on the concerned icon and select your option. You can set resolution here.
So you don't need to install another program to download any videos or audio. Media downloader will download online videos and MP3 sources to your computer. Click on the media button while browsing the relevant media sites. The MP3 converter will convert online and YouTube videos into MP3 format and download them instantly.
Video Pop-Up Player
This is again a distinguished feature in Spark. When you run a video in this browser you will find a pop-up icon in the right corner of the video. This icon indicates to run the video in pop up. This means you can work with your browser and watch the video both at the same time.
Mouse Gesture
Another very interesting thing about this feature is that you can use a number of functions right away simply by moving the mouse while holding the right-click.
Browser Doctor
When you face any problem while browsing, browser doctor will affix them. Click on the Browser Doctor and select the problem that you encountered and then it will fix it. Open your last closed tabs by simply clicking on the recently closed tab button.
Data Sync
Logging in Spark with Google Account ushers data sync. All bookmarks and other data synchronize with the new browser.
Besides these features, you can change beautiful skins quite easily.
Baidu Spark Browser Features
Watch videos while surfing the web with pop-up video player.
Transform online videos into MP3 format from MP3 converter.
Browser Doctor will affix the difficulties that occur while surfing the browser.
Full page screenshot.
Drag and drop virtual objects to another location.
Integrated Torrent Downloader
Data synchronization.
Conclusion
The Spark Browser provides a wide variety of improvements. I found Spark very useful to me.