Make your desktop screen more attractive with newly released Staircases PREMIUM theme which shows rising, descending, and gracefully curving beauty of architectural stairways. This personalization app comprises 12 super quality 4K images in total that you can use as background wallpaper only.
Though getting this Windows 10 theme doesn't cost any bucks, you need a Microsoft account to sign-in while downloading the pack. Despite that, your device should fulfill some basic requirements to make the theme work smoothly.
Staircases PREMIUM Windows 10 Theme
Here is how to download Staircases PREMIUM Windows 10 Theme –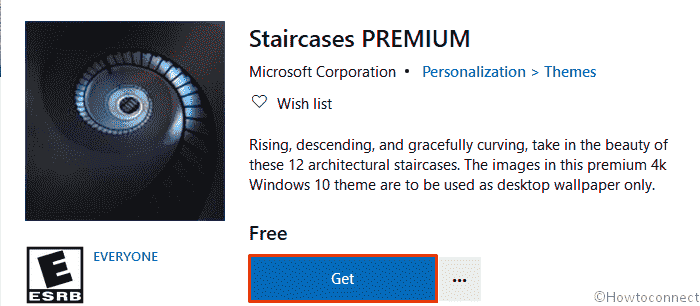 Doing so will redirect you to Microsoft Store page which holds all inside information of described theme.
Once again, click the Get button.
Let the system finishes downloading process as well as installation.
Once you receive confirmation of the same through notification, click Apply button.
Move to the right pane of Theme settings page and click on the Windows 10 theme you just got.
Or else, open Microsoft Store straightway from the start menu and use its search function to look for Staircases PREMIUM. Once you view the same in search result, enter into its specification page and click on Get. Thereafter, open Windows Settings app and head over to Personalization => Themes. Pass to the right column of currently running page and hover the mouse pointer to Change theme section eventually click on the specific Windows 10 theme.
System prerequisite
Volume of Staircases PREMIUM theme is below average as it occupies only 36.12MB of hard disk memory. Moreover, people of all ages whose Windows 10 device supports English (United States) as default language can own this theme pack from the store. Besides, below requirements are needed to use the pack without a hitch –
Version of Windows 10 operating system should be equivalent to 14951.0 or greater than that.
Architecture must be either of x86, x64, ARM, ARM64.
That's all!!!