The Windows 8 Start screen is very useful for windows 8 based touch screen tablet or laptop. But for desktop PC, maximum users want to boot directly to the desktop instead of start screen.  Luckily, Microsoft has now included this feature by default into windows 8.1 OS.
Windows 8.1 has introduced new features as well as skip the Start screen at login. Then you can go to launch the desktop immediately. To make this process easy, Windows 8.1 has returned the Start button and lets you boot directly to the desktop.
Boot to desktop directly in Windows 8.1
Step 1
Right-click on the Windows 8.1 taskbar and select its Properties.
Step 2
Click on the Navigation tab. Here, search for Start screen section. Next, check the box beside Go to the desktop instead of Start when I sign in.
The next time you will boot Windows 8.1  desktop without prompting the Start screen.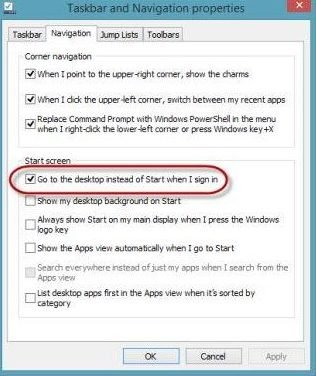 Conclusion
Generally, Microsoft has done a brilliant job in order to remove the previous every fault of Windows 8 in recent released Windows 8.1 version. It brings back several missing features of default apps and adds new modern UI apps, redesigned system settings to get better user experience.