Top 10 Mobile Wallets in India. – After the government's decision on demonetization, India is running towards cashless transactions. Due to this, online transactions have rapidly increased and this change is visible clearly. Many giant eCommerce websites and small vendors as well are opting for online transactions to speed up their respective businesses. Many websites provide Fast Secure Online Payment and transactions.
Even before demonetization of money in India, the Mobile Wallets scheme has been evolving and slowly showing its pace towards the development of the country's economy. E-wallets or digital wallets have the future and so, many organizations are going through their way.
Using our credit card or debit card, you can charge e-wallets or digital wallets, or mobile wallets with money. Major Websites which allow mobile wallet scheme allow Rs 20,000 to be added to their wallet a month. If you are an upgraded user, then the account upper limit is Rs 100000. You can roll back the money on the wallets if you don't spend it on shopping.
UPI s a new way of payment made by NPCI, which simplifies online transactions. VPA helps you to receive and send money to any user.  When you follow these methods you have relief from explaining beneficiary particulars such as account number, and IFSC code for the transfer. Cashless transactions can abolish black money, and help country's economy. Use the useful accounts mentioned below based on your choice and be a part of the country's growth.
Top 10 Mobile Wallets in India
Exercising with e-wallets, you can transact for your mobile balances, various kinds of bills, tickets, and a lot of others.
Paytm
Under this category, Paytm falls first and is the best eCommerce portal and Mobile Wallet available in India so far. With this most popular e-Wallet you can pay your mobile bills, electricity bill, book bus, train, movie tickets, can shop for your kitchen, home, office appliances, personal care and the list continues if I don't stop here.
You require filling Paytm wallet fetching money from your Bank account (anyone) prior to executing transactions. Well, in case, if you are not having any money in the wallet, nothing to worry as this specific e-wallet allows making payment through credit and debit cards. Select which transaction you are going to have and at the end of online shopping you have to pay money.
The main advantage of adding money to your wallet is that your transactions are much faster and safer. This is the best way for safeguarding your account and no need to bother about your cards, passwords and all.
For small business vendors, one has to register to get QR code. And once the code is generated, easily use that code to get the bills to be paid. The vendor has to display the QR code for the user to scan that code and then pay through their wallet.
Mobikwik
After Paytm, Mobi kWIK is the one that many users have trust and it is versatile in its own way to have transactions. You have to register for this before continuing to use it. Using this app, you can clear out the outstanding bills like mobile, electricity, water and many others in a faster and better way.
When you have money in the wallet, pay at many vendors for the goods that you have purchased. This app is accepted at many small and medium scale business vendors. All you need is to take the vendor's number and pay them in the go within seconds.
Freecharge
Freecharge is another app that allows you to make payments at many stores, which means it is accepted at many places. It is one of the fastest growing e-commerce portals which allows you to pay bills, shop, and different others. This specific app will charge a basic fee for transacting the wallet money to the linked bank account. However, before opting for transactions carefully verify your bank account.
State Bank Buddy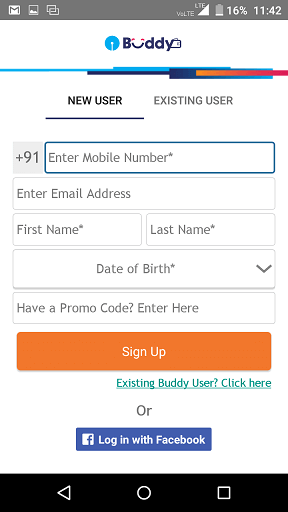 State Bank Buddy app is a great way to evolve into the next generation. This is accessible in 13 different languages, unlike the others. So, non-English users can also use this app without any hassle. You can send money to friends and family and if they too are having State Bank of India account then the transactions will be free of charge. And if your friends have other bank accounts then a minimal fee is charged. Simply link your debit or credit card for further transactions by using your plastic money.
Get here
HDFC PayZapp
PayZapp is one of the reputed mobile wallets initiated by HDFC bank. This app is available for all users even they have no account in HDFC bank. It takes 3 verification steps for every transaction you make using this app. It is accepted by a majority of the vendors across India. So, it is user-friendly to use, as it is provided with high-security measures.
ICICI Pockets
ICICI Pockets application is the first mobile app to use UPI-based payments in India. You can pay using the money in this wallet at any vendor which supports UPI payments. If you hold an account in ICICI bank, then this application lets you perform banking transactions also. This application allows users to transfer fund to other bank accounts, pay bills, book tickets, and many other things.
Airtel Money
Airtel money is an app which is unique among its kind. It is flexible for users. It provides a variety of offers for its users. Unlike many other apps that provide cashback to their wallets, airtel provides cashback directly for mobiles, DTH users, or whatever they provide service for when recharged using airtel money app.
Phone Pe
Flipkart introduced this PhonePe app for its users. This application relieves you from adding beneficiary account information. PhonePe supports UPI payments furthermore VPA. This is just like other Mobile Wallets which allow you to shop, transact utility bills, and transfer to banks and others. You can effectively shop on Flipkart using this app when you don't have Flipkart app.
Lime
Axis bank launched its kind of mobile wallet app for its users. You can shop, sort out bills, transfer funds, book tickets and perform a lot more practices using this Lime e-wallet. You can use a calendar for daily and regular updates for easy remembrance of its users.
Ola Money
Ola money, the wallet app created by Ola cab services for their users. By adding money to the wallet, you no need to worry about booking cabs and paying them on hand with real cash. No need to worry about changes they need when paying for them. After completing your ride, they will receive the charged amount without your interaction. That means you don't need to pay them with real money or through online mode to them.
There are many other apps other than these apps which allow users to do their wallet transactions. Some of them include oxygen app, Jio app, PayUmoney wallet, momeo, citrus, city master pass, and many others. Even some of them are providing virtual cards proven as an alternative to credit cards. Any retail or online stores around India accept these kinds of plastic cards.
If you make up your mind to start using the Mobile Wallets, create an account. You will need to verify a mobile number, email id, bank particulars and others whichever you require for transactions. For transactions higher than Rs 20,000 one has to upgrade their wallet. Merchants themselves can easily accomplish the Fast Secure Online Payment using Mobile Wallets. All you have to do is produce the relevant documents fulfilling KYC norms.
Conclusion
Above mentioned are some of the Mobile wallets which are unique in their ways which provide users with transactions online. All you have to be is data available on your device to make transactions. Every app is secure in its way to provide hassle-free transactions for the users. So, one no need to be worried about theft. Go freely around the globe without annoying about the physical money on your hands when you have wallet balance on your respective accounts.
All these mobile wallets are available for android, windows and Apple users as applications or can be used on the web. Based on the device you use, go to the app player and download the app you like to use, and go for cashless transactions.
However, they may save you from money change problems and obviate queues before Banks. This will help the country's economy is a great way. As there is no scope for cheating and converting earnings to black money. Be careful with fraud before opting for transactions. They will clearly mention that they don't ask for users' information through any means. So be careful before opting for fraudulent transactions and keep your accounts safe. Happy cashless transactions!!!