WhatsApp includes the all new exciting attributes where you can update Text-based status. WhatsApp Messenger is a no cost and cross-platform messaging service for all sorts of smartphones. This popular software takes help of the Internet to provide services like voice and video calls, messages, photos, and loads of other activities. It provides these services with the help of standard mobile number.
This app keeps on updating itself every now and then to provide the best to its consumers. In this process, WhatsApp rolled a new attribute which permits the addition of Text-Based status. This offers not only adding images and videos in the status but also write and personalize a note.
Read the article to know how to do so.
How to update Text-Based status in Whatsapp
Step 1 – Go to the Google Play Store and tap on the three-line icon at the for more options. Here tap on My App and Games. This will provide the list of all the apps and games that your phone contains.
Step 2 – Here under the Update tab look for the option WhatsApp. Hit the Update button adjacent to WhatsApp to update the app.
If WhatsApp is not in the list that means the application is running up to date.
Step 3 – Now launch the WhatsApp by hitting the software icon on the screen of the mobile.
Step 4 –  Once the software opens, hit the Status tab of the app. This will show a pen sort of icon to update the text-status. Tap on this icon and this will display a text screen to write something in it.
Step 5 – Type an exciting and adorable text to display on the status. Not only this you can insert emojis to adorn it by hitting on the smiley icon on the interface.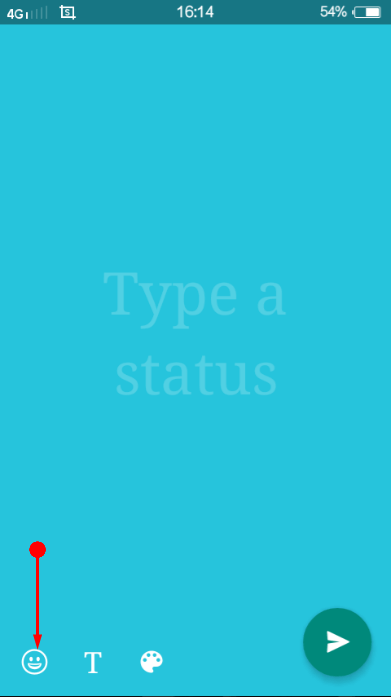 Step 6 – To change the background of the text hit on the palette icon of the interface.
Step 7 – After finishing all these tasks tap on the green arrow mark to update the status with the desired text.
Concluding Words
Thus, you can see this update of the WhatsApp is sure to create a bustle around its users. Surely people will love to create a quite impressive note. In case, you too are interested in such status then use the given steps to update Text-Based status in WhatsApp.