We can use an Android camera like a webcam with an IPWebcam app. Today we will discuss on this matter. For this, we have to download IPwebcam app. Now we proceed to the steps for how to Use Your Android Camera as a Webcam:
First Step
Configure Android Camera as Webcam
At first, download IP Webcam App and Install on your Android phone. You have to make certain that both media (Android and laptop) are linked from in similar Wi-Fi network.
Then Install IP webcam Adapter software with linked laptops. This adapter is used to search your Android handsets like a Webcam.
Start IP webcam App on your Android and change settings in video effects such as resolution and video quality. If you wish to add a security feature to protect your webcam in public network then you can insert a login password.
If all processes are done successfully, scroll down to the underneath panel of the IP Webcam app and choose the Start Server option.
Then you will get Camera streaming screen on your android along with IP address.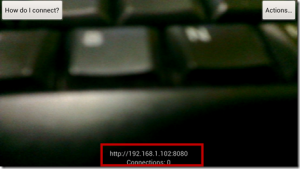 Launch Internet Web browser (Firefox or Google Chrome) on your computer and insert Camera IP address in the browser URL address bar.
If everything is done well, you will view android camera on your computer internet browser screen.
Configure Android camera in the computer 
Second Step 
After successful connection, launch the IP Webcam Adapter software in your computer.
Then you will get Properties dialog box. Type Camera screen IP address in this format http ://< IP address>:< Port number>/Video feed and click on the Auto Detect button.
For example
http://<192.168.1.100:8080/videofeed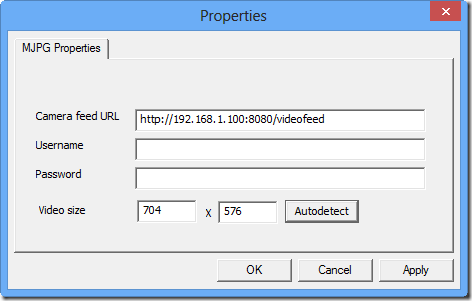 Now IP webcam software will be connected with the Android app.
Thus you are ready to share Android camera as webcam online from Chat software (Yahoo Messenger, Skype, Facebook) or desktop software to make fun.