Currently, the recent version Internet Explorer 11 is present in Windows 8.1 preview. Now Windows 7 users can also grab it free. The top feature of Internet Explorer 11 lets you boost overall performance improvements with support of a fresh JavaScript engine. It also supports 3D hardware accelerated web graphics and processional worth video skills.
Internet Explorer 11 has added a few new cool features like native decoding of JPG photos by the GPU immediately on your video card and support for HTML5 pre-fetching and rendering of web links. As Microsoft's official Internet Explorer blog says, IE 11 boost CPU performance for better and decreases load time to access a site.
Ways to Use and Remove Internet Explorer 11 on Windows 7
Tips to use Internet Explorer 11 on Windows 7
At first, visit below download link and install it on your Windows 7 laptop or desktop. After installing it, you need to reboot of PC once.
Now you will get an introduction page that will explain newly added features within the browser.
Your latest Internet Explorer 11 preview version will take excess time in order to start first time after installing because you will get bugs with some tedious experiences. In this situation, select Options (gear icon) at the top right corner and then select About Internet Explorer. Actually this process will help to confirm you are running only the preview version of Internet Explorer 11.
Download Internet 11 for Windows 7
Tips to remove Internet Explorer 11  from Windows 7
Internet Explorer 11 version is currently added within Windows 8.1 preview. If you want to uninstall or remove Internet Explorer 11 from Wndows 7 computer due to personal reasons then check out our below-given steps.
Click on the Start button and type a command appwiz.cpl. Then press the Enter button.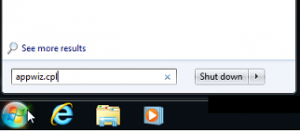 Now you will get Add-remove window. Click on the Uninstall a Program link in the left column. Then scroll down and right click on Internet Explorer 11 from the list and select Uninstall.
Next, confirm to uninstall it and you need to restart your computer to finish the process.
But, if you have installed Internet Explorer means you had IE8 or IE9 and installed updates for grabbing the latest version through updates then a slight bit different process to remove it.
Go to Uninstall or Change a Programme through Control Panel. You can go to Control Panel through Start Menu and then click on Programs and Features.
In Uninstall or Change Program Click on Click on View Installed Update Link.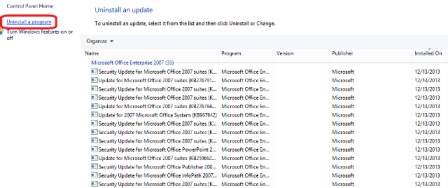 Now all updates will be displayed date-wise. You should uninstall the Internet Explorer update installed on a particular date. If it is not in your memory you can find it In Microsoft Windows Group.
After all, In the end, start Internet Explorer again after restarting. Here, you will view the version which you had running before like Internet Explorer 9.
Conclusion
It is a remarkable point that Internet Explorer 11 has been integrated into the Windows 8.1 preview, but it will not run on Windows 8. Besides Windows 7 users may taste internet explorer 11 without any cost. At the finish of August 2013, IE11 will be released especially for Windows 8 system.