Windows 10 Build 18836 is out with lots of enhancements and modifications. The update contains fixes for Cortana, Windows Security app, Start Menu, light theme, and more. In addition, this build has also certain issues related to Realtek SD cards, Creative X-Fi sound cards, Narrator and File Explorer.
You can download Windows 10 Build 18836 by directly navigating to Windows Settings => Update & security => Check for updates. However, you will receive this build all by itself if the automatic updates feature is not disabled.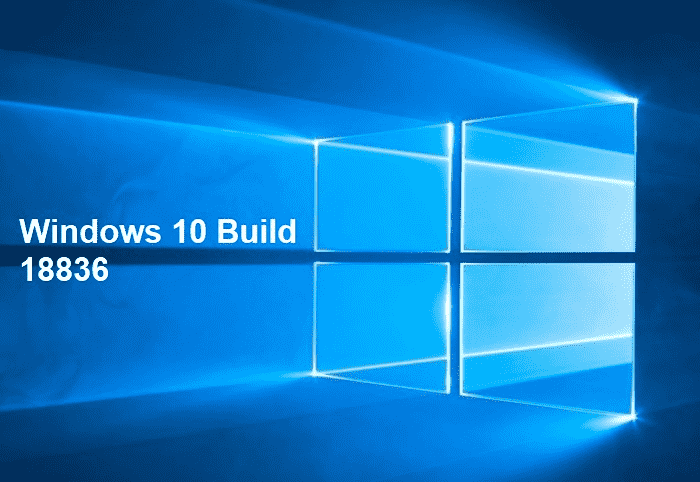 Windows 10 Build 18836 Details
General Improvements, fixes, and changes
Windows Security app contains a new tamper protection setting. This significant feature provides safety to your device by preventing bad actors from tampering. By default, this setting is designed to be turned on. But, the default state is not effective for current Insider Preview builds. However, the app will suggest you turn on this setting manually.
Microsoft fixes the problem where you need to make multiple clicks to turn OFF Location from the Action Center.
The Start Menu's tile grid will now be able to properly re-arrange pinned folder after this update.
Windows 10 Build 18836 resolves an issue where the newly installed application may fail to display in the search results.
The team bypasses the problem where some Insiders were not able to launch Cortana in Tablet Mode.
In the last release, right-clicking the desktop shows up a light colored "context menu" in the dark theme. Windows 10 build 18836 fixes this one as well.
Microsoft is updating the name of Windows Light theme. It will be "Windows (light)".
Another fix for Cortana is out in this build. The digital assistant's icon on the secondary monitor fails to update colors after switching between light and dark theme.
The problem that occurs while using the "light theme + small icons + a vertical taskbar orientation", text written on the taskbar stays white which makes it difficult to read is resolved.
The team addresses an issue where the open programs do not show on the taskbar. However, they are visible in the Alt + Tab.
In the last couple of flights, there was an issue that resulted in build unable to log into WinRe with the admin account.
Another fix is out that addresses the reports of devices getting stuck with "Hibernating…" message on the PC screen on resume from hibernate.
On certain devices in the recent flights, there was an issue that results in greys having an unexpected light pinkish/purple-ish hue. The rollout of build 18836 has a fix for this too.
The Ease of Access's Cursor and pointer settings, mouse pointer size and color will now be retained after installing this specific build.
Windows Security app will now refresh properly. Moreover, it will also not display an unknown status for the Virus & threat protection category.
Known Issues in Windows 10 Build 18836
A bug check Green Screen of Death (GSOD) will show up while you try to open games that use anti-cheat software.
Microsoft improvises night light reliability in this specific build. The team is continuing to investigate problems in this space.
You may need to conduct an additional restart while you try to "Reset this PC" and choose the option Keep my files on a device that has "Reserved Storage" turned on. This will make sure that Reserved Storage is functioning properly.
Certain Realtek SD card readers may fail to function correctly. However, the team is investigating the problem.
You may experience issues with File Explorer, like it may hang while you make an attempt to rename, move, or delete MKV files.
The Settings app may crash down while you try to navigate to the Narrator settings in Windows Sandbox.
After installing this specific build, "Creative X-Fi" sound cards will not function correctly.
Known Issues for Developers in Windows 10 Build 18836
Users are likely to encounter issues with optional content when they choose to switch either to Fast or Slow ring after installing any of the latest builds from "Skip Ahead". For example, enabling developer mode may fail. Hence, in order to install or add or enable optional content, you may need to stay in the "Fast ring" only. This is necessary since optional content will only be able to install in the builds that are approved for certain rings.
Source – Release Note