In Windows 10 Computer, when you take your mouse pointer to a folder or item lying on the desktop you find a pop-up emerges where details of the concerned folder or item are written. Suppose you want to know the size of an image put on Desktop. You don't need to go to the properties of the image after following a lengthy process, but you need to just hover your mouse pointer over the image. Although display pop-up description on hover over folders feature slightly affects the performance of your System but helps you in a substance in your work in lieu. If you have a touch screen device then it becomes easier since you have to hover your finger only.
Among so many hidden features, this is one good feature that gives you the popup description for folders and desktop items when you hover a mouse pointer over it. Let us see how that can be done in Windows 10!
How to Display Pop-Up Description on Hover over Folders Windows 10
To begin the steps, take your observance towards the File Explorer in Windows 10.
Click the View menu and with the arrived Ribbon Menu click Options so that you will get into the Folder Options.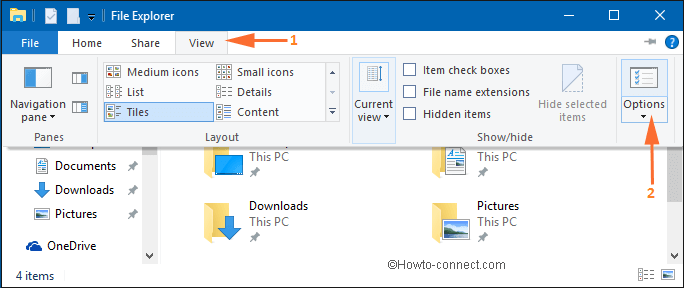 Folder Options will get on your screen and now move your attention to the View tab. Then, move to the Advanced settings section. Go down the list and see the option Show pop-up description for folder and desktop items. Choose its checkbox. You will see many other options listed there which you can enable or disable whenever you feel like. Remember to click the Apply and Ok buttons to confirm your changes.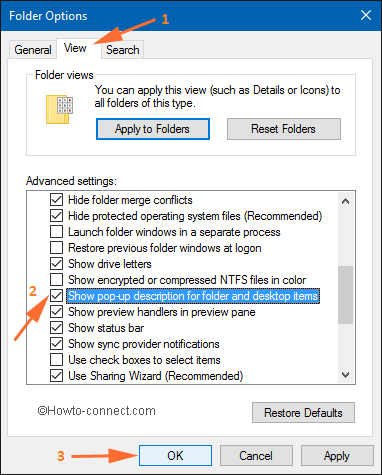 Discussion on Windows 10 is the topic which has no boundary as this operating system has a store of features to experiment with. And with so many features to work with, some are easily accessible whereas some need a little bit of haunting to make it happen. Whatever may be the feature, small or big; Windows has always been able to satisfy the needs of its users and maybe this is their strength that makes them fly high.
And if you are a regular reader of our posts you must have noticed that there are many posts that describe the deeply rooted features of Windows 10. And today we are sharing such one feature of Windows 10 with you all.
Finishing Touch
It is so easy to display pop-up description on hover over folders or desktop stuff. With the change in the settings, you can quickly view the information about the folders and desktop stuff. Do the changes and tell us how fair it is working!