Are you looking for a handy optimizer that can tweak the services on Windows 10 and increase the performance of your PC? Gaming users often need this type of utility as they use the maximum of the system resources. You can find Windows 10 Services Optimizer very useful on Github to fulfill your requirement. Furthermore, this helps you to Speed up your system and network performance, disable Windows telemetry, solve common registry problems and a lot more.
Optimizer is a portable tool that helps you to restore your privacy and enhance your security. Depending on your edition of Windows, this will also let you perform some specific tweaks. You can see our another post in this regard – How to Optimize Windows 10 Performance to Get Ultra-Fast Speed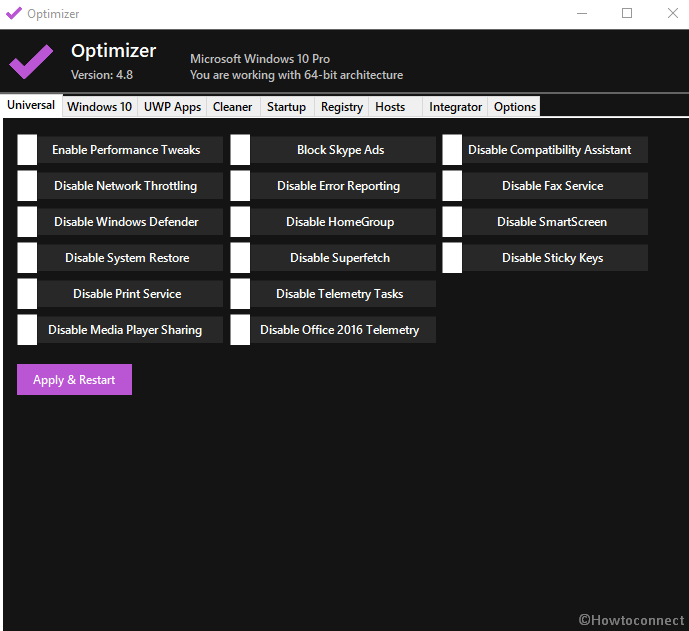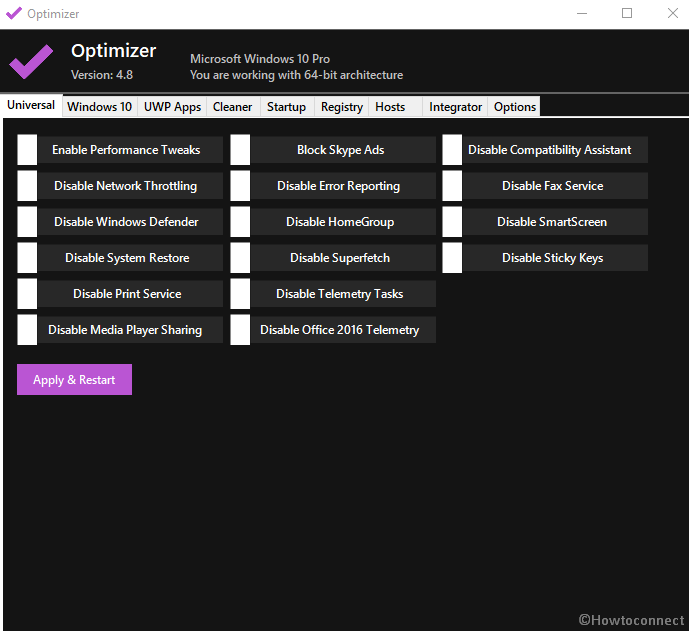 Let's see how you can use the tool –
Windows 10 Services Optimizer
Here is how to download and use Windows 10 Services Optimizer –
Step-1: Go to this page and get the tool on your PC.
Step-2: You don't need to install it, just double click on Optimizer-4.8.exe and select Yes on UAC dialog. This is the latest version of the utility.
Step-3: In the Universal tab, click on Enable Performance Tweaks.
Step-4:  Then select Enable & Restart.
This will tweak Windows 10 services in order to improve performance. Unnecessarily running service is the biggest hindrance in the speed of your system. The utility recognizes them and disables on its own. The app is successful to disable Windows telemetry to keep your privacy intact. If you like you can turn off Cortana from the interface of this tool. However this is is not a better option but the app allows to Disable Windows 10 automatic updates. You are able to uninstall UWP Apps from the UI. In addition, the tool helps to Block Skype ads, Edit hosts file, Remove unwanted programs running at startup, Define custom commands for run dialog, etc.
So we recommend to use Windows 10 Services Optimizer after you install this OS version on your PC.