Quiet Hours produce the condition where you are not disturbed by any type of notification in Windows environment. As earlier versions, Windows 10 has this feature too. Here you will read How to Turn On Quiet Hours on Windows 10.
While working on some of the important matters on your computer or laptop you might wish not to be disturbed by anyone. Here, by anyone I mean by a person and also by the system that you are into. Well, Windows 10 has a feature called Quiet Hours which will keep all the notifications off for a period of your choice. This feature was also present in the just previous version of this operating system. One of the best features provided by Quiet Hours is that you don't have to disable all the notifications manually. When you Turn on the Quiet Hours all the notifications will go to a mute state by itself. You will not receive any notifications from any of your installed apps when the Quiet Hours is turned on like no notifications from Mail, no call alerts from Skype and many more. You will again get the notifications after the elapse of the time interval of Quiet Hours. So, have a look at How to Turn On Quiet Hours in Windows 10.
Related: Windows 10 – How to Change Time to Stay Notification Popup
How to Turn On Quiet Hours on Windows 10 to Disable Notifications
In Windows 10, to turn Quiet Hours is pretty simple.
Take your mouse pointer to the Notification Area icon on the Taskbar near the corner on the right side and make a right click. You can see few options on a menu – First is Open Action Center and the second is Turn On quiet hours. Evidently, click Turn on quiet hours.
To Turn off Quiet hours make a right click on the Notification area icon once more. Click Turn off Quiet hours this time.
Through Action Center
To Turn on Quiet Hours through action center is a pretty simpler way in Windows 10. Go along the steps below:
Hit Notification area icon on the by the extreme right on the taskbar.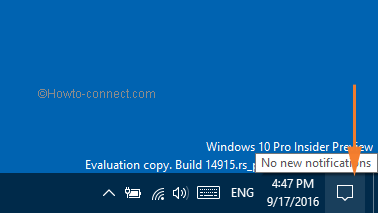 Move your mouse pointer to the tile written Quiet hours in the lowest right of action center pop up and press it.
CONCLUSION
Set the times as per your requirement and work without any tension. I had done my settings and hope the same for you there. Accessing this feature is very easy and reliable. You will not be disturbed at the set time.