How to Add Quick Launch to Taskbar in Windows 8 and 8.1: There are so many apps and tools provided by Microsoft for Windows 8 & 8.1, Quick Launch is one of them. You can display small or large icons of different software on either side of the taskbar by using quick launch. Pin to taskbar is another option to put shortcut of different programs on taskbar, but after pinning taskbar shows the shortcut still and large which look not so cool. In Quick Launch you can add shortcut of program tiny, big or icon with text, at any place of your Windows 8 PC Taskbar. Quick Launch manifests modern in Windows 8. Quick Launch simplifies to access any program on PC and  In the hidden folder, quick launch is found. Here we are giving you a few steps to add quick launch to the taskbar in Windows 8 & 8.1.
add Quick Launch to Windows 8 and 8.1 Taskbar
First Way
Firstly ensure that you have windows 8 & 8.1 OS in your PC.
Go to Your Desktop and also you can launch it with shortcut  + D.
You can get your taskbar as given below in desktop, you have to right-click or press and hold on blank space on the taskbar.

You will meet with a dialog box, in this Dialog box there are so many options are given but you have to choose Toolbar.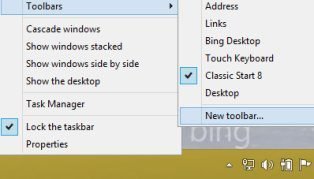 After clicking the Toolbar Option, You have another option as Address, Links, Desktop, and Quick Launch so you have to choose and click the New Toolbar.
You will meet with a dialog box of Choose a folder.
In this folder you have to copy and paste the text given below:
      %UserProfile%\AppData\Roaming\Microsoft\Internet Explorer\Quick Launch
and click on Select Folder.
You are done and you have added Quick Launch on the Taskbar.
If you have an interest in removing text and title from items in Quick Launch then you have to right-click on the dotted separator which is adjacent to the Quick Launch, you will unmark the Show Text and Show Title as given in screenshots.
How to make Large or Small Icons for Items in Quick Launch
Unlock the Taskbar
By Clicking on the dotted separator line which is far to the taskbar then you have to drag /scroll the pointer to the left of the Dotted Separator line for quick launch given in screenshots.
Lastly, you will have to lock the taskbar after finishing the process.
The Second Way to add Quick Launch: This is the shortcut or master method to add Quick Launch.
You Have to open your desktop.
By Right Clicking or Press in Blank space on the taskbar, you will meet with an option box of many options as Toolbar, Cascade Windows, Show the desktop, etc.
You have to choose or mark in Quick launch.
Finally, you have Quick Launch in the Taskbar.
After adding Quick Launch in Windows 8 and 8.1 OS the Word Quick Launch will be written on your Taskbar. When you will click on an arrow beside the word Quick Launch all shortcuts will be launched in a small menu. From here you can launch any program you are needed very easily. You can add icons of your programs by simply drag and drop. Besides any icon can be deleted by right click and select delete, Change location through Sort by Name option. In Quick Launch for Windows 8 and 8.1, there is no such option for customization.
For more clarification, you can watch this video: