Guide to solve XCOM 2 Error 0xc00007b, ce-34878-0, Red Screen, Crash Step by Step – Gameplay of XCOM2 is quite interesting without a doubt but it troubles users with multiple errors and poor performance.
Many users encounter the different errors showing codes, load time lag in this game. Here you will see a guide that includes the possible fixes for all the errors found on XCOM 2 one by one.
Solutions of XCOM 2 Error
See the fix one after another –
XCOM 2 Error 0xc00007b
When you confront with this error, the game does nothing even after downloading and installing the same absolutely in a proper way. Follow the process and Steps to Fix XCOM 2 Error 0xc00007b –
Step 1 – First of all Download a Dependency walker suitable for your computer. Identify whether the XCOM 2 game is 32 bit or 64 bit and match the software before start downloading. It means for 32 bit XCOM 2 you will grab 32-bit Dependency Walker. Similarly 64-bit Dependency Walker for 64 bit of the game.
Step 2 – Once the download is over, open XCOM 2 with the Dependency Walker. Make sure that Full Paths is enabled under View. If It shows an error message, don't get concerned, it's okay.
Step 3 – Now, go downward through Yellow interrogatory mark bubble and wait until Windows and program files appear.
Step 4 – Now find the file in RED far right under CPU. It will look so much clear if you have downloaded the appropriate version of Dependency Walker.
Step 5 – Once you have found the file in red color, take its backup on your computer. Now either delete or rename or replace the file with the help of full path (enabled).
XCOM 2 Error ce-34878-0
Error code ce-34878-0 indicates that XCOM 2 application has crashed and cannot be repaired. Even Sony accepts that this is not a normal error and one and only solution is to uninstall and reinstall the game application.
So if ce-34878-0 Error recurs on your XCOM 2 then uninstall the game. Now install XCOM 2 and check whether it works. Still. you are getting the error then go to the service center of Sony and Replace your console.
XCOM 2 Red Screen Error
In the beginning of training or conventional missions XCOM 2, the game screen turns red.
Step 1 – Create a shortcut of XCOM 2 on the desktop.
Step 2 – Right click on the Shortcut of the game XCOM 2 and pick Properties on the list of options. The XCOM 2 properties dialog box comes to view after this deed.
Step 3 – Once the Properties opens, o to the box Target. At the end of the target write
 -noRedScreens -review
Important – Make sure that there is a space between the target and -noRedScreens -review
Step 4 – Finally, select Apply followed by OK on the Properties to save the change.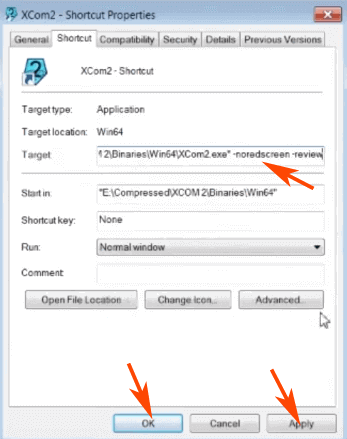 XCOM 2 Game Crashes on Starting
Step 1 – Before you tried something else, a reboot of PC might fix this crashing of XCOM 2.  So restart and check if the issue is no more occurring.
Step 2 – Navigate to library after then Right click on XCOM 2 => Local Files => Verify the Integrity of game cache > Stay and allow steam download requisite files
Step 3 – Download Dotnetfix and run this utility to clean the .NET Framework existing on your Windows 10 PC. Now install a fresh copy of the same framework. So follow the path and guide underneath
"Library => Right click XCOM2 => Local Files => Browse Local Files  => CommonRedist => DotNet => 4.5.1 => NDP451-KB2872776-x86-x64-AllOS-ENU.exe => Reboot PC"
Step 4 – See if any windows update is pending. If it is the get the update without doing late.
Step 5 – Straightway Follow the path "Library => execute a Right click on XCOM 2 => go to Local files => Browse local  files => CommonRedist => DirectX => Jun2010 => DXSETUP.exe => stop until DirectX gets installed".
Step 6 – Browse the folders and disable the Cloud sync in XCOM 2. So navigate to the folder Library then XCOM 2 after that Updates and lastly Uncheck Steam Cloud Synchronization.
XCOM 2 Error 41 – Servers too busy
Step 1 – Move ahead to Library, Right click on the game and select Properties.
Step 2 – On the next wizard, switch to the Local files tab and choose Verify integrity of local game cache.
Servers too busy – Error 53 XCOM 2
Disable the Antivirus running on your PC then launch the game.
Conclusion
Therefore, the procedures to fix XCOM 2 Error 0xc00007b, ce-34878-0, Red Screen, Crash will help you to enjoy the game without any distraction. Despite you find any hassle kindly inform below.
Repair any Windows problems such as Blue/Black Screen, DLL, Exe, application, Regisrty error and quickly recover system from issues using
Reimage
.