Microsoft claims Windows 10 to be the best OS but numerous users encounter issues in the activation procedure only. When upgrading from Windows 7/8/8.1, the copy of Windows should be legitimate and also gets activated by itself. However, few of them confront 0xc004f034 Windows 10 Activation Error and thus are unable to activate the product.
This issue actually gets resolve automatically because it is just Microsoft's servers that are not available at the moment. On certain days, the servers become overloaded and as a result, you may receive errors. If you don't prefer to stand in the queue to activate your Windows, we present you certain promising solutions. So, let us head towards the solutions and see which one works for you.
How to Fix 0xc004f034 Windows 10 Activation Error
Solution 1 – Create a Batch File
The first workaround that you should give a shot to overcome 0xc004f034 Windows 10 Activation Error is to generate a batch (.bat) file. This batch file will contain an activation script that you have to create in Notepad. With all the admin rights when you execute this script, you should get rid of this trouble.
Step 1 – First of all, access Windows 10 PC with all the administrative privileges and then stay on the desktop.
Step 2 – While in desktop, type notepad on Cortana. When you see Notepad as the Best match, select it.
Step 3 – Here, copy-paste the below-given text –
@echo off
:loop
cscript /nologo slmgr.vbs /ato
if errorlevel 0 goto end
goto loop
:end
echo Activation was successful. Press any key to close this window.
pause>nul
exit
Step 4 – After pasting the entire content on Notepad, click File on the top. Click Save when few options come into view.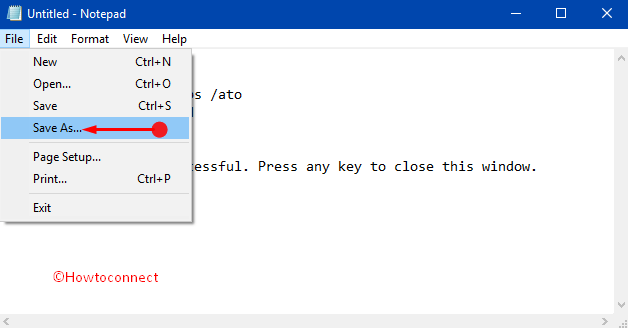 Step 5 – On the Save as dialog, choose the location where you prefer to store the batch file (usually Desktop). Moving ahead, assign Windows10Activation.BAT as the File Name and ensure that its format is set to .bat (see screenshot).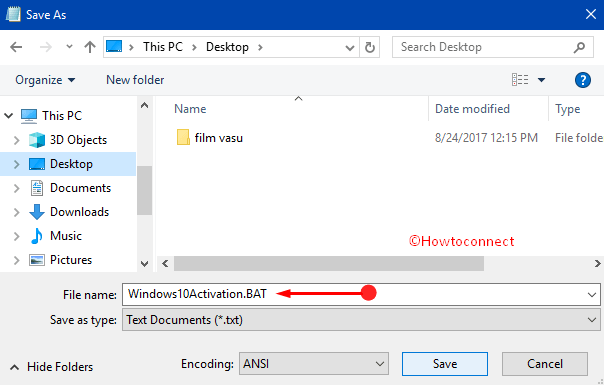 Step 6 – Lastly, double-click the batch file you have generated and then verify the activation. However, running the script generally, bypasses 0xc004f034 Windows 10 Activation Error.
Solution 2 – Continuously Click Activation button
Now, this specific workaround may sound little weird but frankly speaking it actually works. For many, continuously pressing Activation button literally activated Windows 10 without showing up any error notes. If the above technique fails to resolve the issue, give a shot to this one.
Step 1 – To begin with, launch Settings application to resolve 0xc004f034 Windows 10 Activation Error. To do so, you can altogether hit Windows logo and I keys.
Step 2 – Reach out to Update & Security category and select it on the home page of Settings program.
Step 3 – Select Activation section on the left sidebar of the next page. Now, shift to the corresponding right side of Activation. Here, click the Activation button continuously and after pressing around 100 times you may see the activation successful.
Solution 3 – Try Phone Activation
As you ran into 0xc004f034 Windows 10 Activation Error while activating Windows 10, you should make an effort to activate it through the "phone".
Step 1 – Open Run dialog, copy-paste the below-given syntax and click OK.
Explore different ways to Open Run Dialog Box in Windows 10.
slui.exe 4
Step 2 – On the window that comes up, use the drop-down and pick up your country. Click Next to move ahead.
Step 3 – Now, follow the automated guidelines and complete the activation of Windows pretty much smoothly.
Solution 4 – Activation Keys for Build 10158 or Higher
Using "Windows Update", if you are upgrading build-by-build, then Microsoft doesn't ask you to provide an activation key. However, if you are prompted for a key on Build 10158 or higher, then the team gives new activation keys. They are –
1. Windows 10 Insider Preview Pro Editions: 8N67H-M3CY9-QT7C4-2TR7M-TXYCV

2. Windows 10 Insider Preview Enterprise Editions: CKFK9-QNGF2-D34FM-99QX2-8XC4K

3. Windows 10 Insider Preview Home Editions: KTNPV-KTRK4-3RRR8-39X6W-W44T3
Conclusion
Hence, with the above simple workarounds, you can easily get over 0xc004f034 Windows 10 Activation Error. Most of the time, it happens due to Microsoft servers, but in case you are running short of time and cannot wait to fix it automatically, try out the above solutions. However, if you some other tips to solve this specific activation issue, do write them to us.
Repair any Windows problems such as Blue/Black Screen, DLL, Exe, application, Regisrty error and quickly recover system from issues using
Reimage
.