Did you ever confront an error APC_INDEX_MISMATCH with BSOD and a stop code 0x00000001 on Windows 10 PC? If you get to see this issue on your PC, then the culprit is the faulty, corrupted or damaged device drivers. For many, this problem is also related to graphics card. Though the issue is a bit rare you should take necessary measures to get rid of it.
The appearance of this error differs from user to user. Some face it while booting, whereas others experience it in middle of some work. So, we present you few propitious solutions that can assist you in bypassing APC_INDEX_MISMATCH with BSOD. Here, you may like to read a fix if Windows 10 is Taking Too Much Time to Boot Up.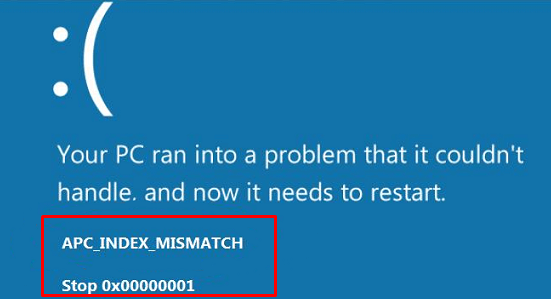 APC_INDEX_MISMATCH with BSOD in Windows 10 Workarounds
Solution 1 – Reinstall Graphics Driver
The error message APC_INDEX_MISMATCH often happens to occur because of an incompatible graphics driver. So, first of all, reinstall the graphics driver and to do so, pursue the below-given sequence of steps.
Step 1 – Use hotkeys Win+X to unfold power user menu. Once you find Device Manager option on the upper section of the menu, select it.
Note – If you are totally unable to access Windows 10 PC, go to Safe Mode and then follow from Step 2.
For reference, follow our guide to Enter Safe mode During Boot Failure on Windows 10.
Step 2 – Moving ahead, click the arrow beside Display adapters and execute a right-click on your adapter. When sub-menu shows up, click Uninstall device.
Step 3 – On the dialog that comes into view, tick mark the box namely Delete the driver software for this device and then click Uninstall (see screenshot).
Step 4 – Once you do this, type msconfig on Cortana and press Enter. This launches System Configuration on the PC screen, switch to Boot tab.
Step 5 – Here, uncheck Safe boot and click OK as shown in the given image.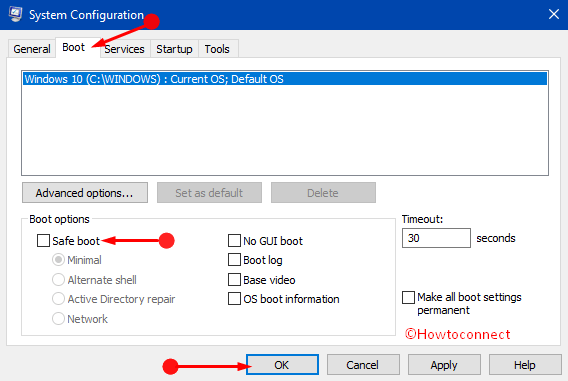 Step 6 – Lastly, the PC reboots normally and automatically installs the graphics driver. Hopefully, this fixes the trouble and if still persists to occur, try out the next one.
Solution 2 – Check Newly Installed Drivers
For many, this APC_INDEX_MISMATCH with BSOD issue also appears after installing a certain device. Another possible cause of this error is when the driver is not fully compatible. So, ensure that the installed device is having the latest driver in order to avoid compatibility mess.
Step 1 – Type devmgmt on Cortana and hit Enter when the Best match on top displays Device Manager.
Step 2 – When Device Manager opens up, locate an Unknown device or the one with a yellow triangle. If you discover any, then you should instantly update its driver. So, right-click on it and select the option namely "Update Driver Software".
Note – In addition, you can also install the drivers directly from the manufacturer's site.
Step 3 – Wait for some time and you can notice the download and installation of the driver.
Solution 3 – Check for Malware Infection
If you often come across APC_INDEX_MISMATCH with BSOD error on Windows 10 PC, then there are chances that the computer got infected with malware. These malicious intruders commonly corrupt, damage or even delete certain related files. Furthermore, it can also happen that the trouble is completely associated with a component of the malicious software itself.
So, you should give a shot to some strong antimalware solution and try to get rid of the threat. Also, use Windows Defender, the built-in security tool of Windows to settle down this specific problem.
Solution 4 – Check for Hard Drive Corruption
If the above solutions fail to provide any relief with APC_INDEX_MISMATCH with BSOD error, you should give an attempt to scan the integrity of your hard disk. "Chkdsk" is a built-in Windows utility that allows you to retrieve various system file errors.
Step 1 – On Cortana text field, type cmd and while holding Ctrl and Shift keys, hit Enter on the keyboard. This immediately evokes UAC prompt, click Yes to agree.
Step 2 – Copy-paste the given syntax in the black panel and press Enter.
chkdsk /f
Step 3 – The command starts scanning for hard disk corruption that may be the cause of APC_INDEX_MISMATCH with BSOD issue. However, you may require restarting Windows 10 PC once the scan is over.
For more details, pursue our guide on How to Check Faulty Drives with Chkdsk in Windows 10.
Conclusion
Hence, after following these list of workarounds, you should definitely bypass APC_INDEX_MISMATCH with BSOD problem on Windows 10 PC. However, solutions may vary from user to user and if something else worked for you, write them to us. But always try to keep the OS and its components updated.
Utility tools to solve this BSOD:
Repair any Windows problems such as Blue/Black Screen, DLL, Exe, application, Regisrty error and quickly recover system from issues using
Reimage
.