A PDF Reader is a software that lets you access and view PDF documents on devices or systems such as Windows 10. A huge number of PDF Readers are available for all sorts of platforms like Android, iOS, and Windows. Today, in this guide, we are going to discuss the 10 PDF Reader Software for Windows 10 You may Rely on. In addition, we also present you their functionalities and features.
Nowadays choosing the best 10 PDF Reader Software for Windows 10 OS stays one of the most circulated queries of all times. Windows 10 being a highly technical update from Microsoft has its own compatibility requirements that provide the best out of any specific program. See an interesting guide about PDF Anti-Copy. So let's get started.
10 PDF Reader Software for Windows 10 You may Rely on
Here is the list of all those top 10 PDF Reader Software which topped the list for Windows 10.
1. Foxit Reader 7
2. Sumatra PDF
3. Adobe Acrobat Reader DC
4. Nitro Pro PDF Suite
5. Adobe Reader Touch
6. Gaaiho PDF Reader
7. Xodo PDF Reader
8. Slim PDF reader
9. Expert PDF reader
10. Reader from Microsoft
Let's have a look at what these software programs are capable of doing.
1. Foxit Reader 7
Foxit Reader 7 is a lightweight program which is really fast in reading PDF files. The installation file is of 12 MB which is easily downloadable. It includes a number of toolbars that provide access to the tools like rotation, zoom, search tool, text selection, and much more. Moreover, this software allows you to annotate your documents in various ways by adding personal comments, or underlining the text, and so on. So here are its features summed up in brief:
PROs
Managing comments is simple due to commands like import, export, comments, pop-up notes and email utility on the same screen
Better control for IT professions
Familiar Interface
Lightning operational Speed
Toolbars can be opened and closed at will
A lot of utilities to work with.
CONs
Bugs cause system to crash sometimes
Software trials are messy.
Get a PDF Compressor to save space on your PC.
For most users, the first preference after Adobe Reader is Foxit Reader and may be the best thing for you also.
2. Sumatra PDF
This is a really small but highly portable PDF Reader Software which starts really fast. It is fast as it has cut down a lot of features that make any program bulky upon employment. Sumatra is not effective to edit and create new PDF documents. You can, however, also view PDF files with ease using hotkey commands. Its basic interface makes it extremely simple to work with.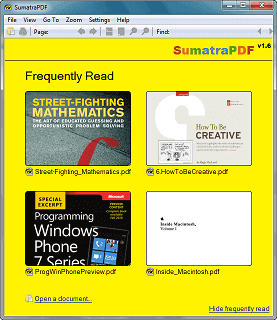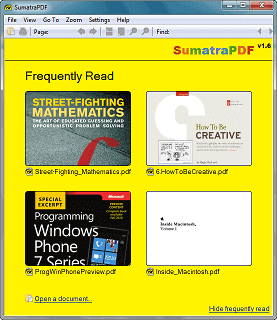 PROs
Multiple language options make it flexible across varied readers
EasyStart feature allows conversion previews fast at loading
Best for reading eBooks
Available as a freeware program
CBR (Comic Book Reader) format is also supported
Advanced features like watermarking, merging and creating custom profiles are available at the interface only.
Cons
Limited features
Unable to edit and create documents
Controls are not at par with similar programs.
3. Adobe Acrobat Reader DC
Adobe is the largest brand to release media products and has been doing this for more than 20 years. It gives you a provision to view, create and manage files pretty much easily. This specific reader is compatible with all Windows versions such as 2012 R2, 8, 7, including 10. Adobe, being the creator of PDF format, ensured to release the best with a lot of heavy features equipped within the tool. Due to this, Adobe Acrobat reader DC is very bulky and messy to work with.
PROs
Intuitive interface
Huge array of tools
Touch-screen enabled interface
Sending and Tracking Provisions
View and add comments to documents as desired.
Cons
Limited features in spite of being an advanced feature
Export function is also restricted a bit in terms of speed of conversion to other document formats.
4. Nitro Pro PDF Suite
Nitro Pro is by far the ideal PDF Reader Software for Windows 10 which keeps a little burden on the system while running. In addition, it also has excellent media viewing provisions. This makes it one of the most downloaded PDF Reader for Windows 10 and also to its immediate previous versions. Nitro, lists down all kinds of PDF documents where you can also decide how they must be displayed.
PROs
Lets you extract images from PDF documents
Annotation features
Easily Imports and integrates digital ID files to PDFs
Pursues Microsoft style of designing interface
Capable of transforming PDF files to MS office documents.
Cons
It is chargeable
Does not give provision to add audio and video files.
5. Adobe Reader Touch
This PDF Reader Software is destined to read documents on touch screen devices like (Windows 10 powered) Phones and tablets. It also supports traditional desktops. It features basic controls via an easy-to-handle and user-friendly interface. Annotating features like comments, highlighting text, strikethrough, underlining effects and sticky notes give extra points to this particular software.
PROs
Simple Reader and Annotator
Has a continuous viewing mode, jump, launching links and printing documents is also easy
Easy to integrate into Windows versions
Optimized for touch devices running Windows 10, 8 and 7.
Cons
Is compatible with the touch devices only
Not so advanced features.
6. Gaaiho PDF reader
Gaaiho PDF Reader comes with a bundle of features, which you should definitely give an attempt to. Its interface is very similar to Office 2013/2016 and looks simple and easy to interact with. Annotation and other features like adding bookmarks, stamps, signatures, and links; are easy with this tool. This feather-light and very accurate program offers a fast display speed. It's also reliable to print and fill up forms.
PROs
Provides a complete set of Comment tools
Lets you create PDFs online
Email or drop down your PDFs at Evernote and Dropbox
Is free of cost
Lightweight and fast
Advanced feel incorporated due to 20 years of manufacturing experience.
Cons
Its trial version expires after 30 days
No sharing provisions to OneDrive.
7. Xodo PDF reader
Xodo besides being a PDF Reader Software is also a PDF Editor which is absolutely free of cost and does not include any purchases in it. Its features are not only advanced but also easy to work with and let you draw, type text, rotate page, strikeout text, add comments, circles, lines, zooming, modify documents and so on. You can also search text, read PDFs in dark environments, use table of contents to jump to sections, delete pages and do whatever an editor does in basic.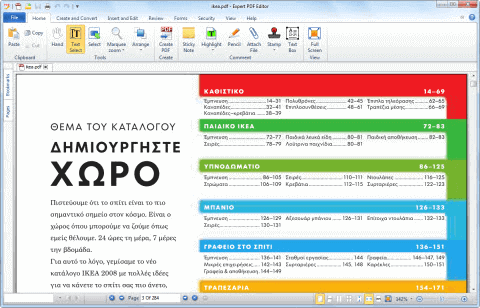 PROs
An advance PDF reader
Compatible with multiple platforms like Android, iOS, and Windows
Scanning documents and merging images to PDFs makes it amazing
Optimized for styluses and finger touch gestures
Reader cum Editor
Compatible with Adobe Acrobat and other PDF viewers
Advanced Annotating utilities
Supports multiple languages like English, Italian, Polish and Chinese.
Cons
Can't access PDF files from SD card.
Get here.
8. Slim PDF Reader
Slim, as the name suggests, is a lightweight program equipped with all the basic features.  It has all the standard functionalities, all in just 1.5 MB of the installation file. Slim, is simply one of the best readers, which handles heavy and light PDF files exceptionally well. It lets you zoom into varied lengths, fit to the screen size and provide default keyboard shortcuts to navigate pages and detect bookmarks. Also, you can search your PDF files using this ultra fast and accurate Slim PDF Reader.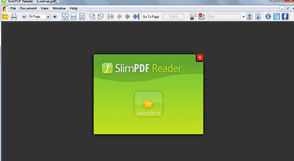 PROs
Is of 1.5MB only
Has a lot of toolbars with many advanced utilities
Interface is simple
Updates are regularly notified
It is extremely flexible and undoubtedly, one of the best Readers of all time.
Cons
Not fully featured
Zero documentation.
9. Expert PDF Reader
The Expert PDF reader is a program using which you can pretty much smoothly access and print PDFs on Windows operating system. This software also lets you modify existing PDF documents along with various other features. Inserting rubber stamps; outlines and, modifying the already inserted annotations from other similar programs is possible with this tool. It offers a variety of skins to choose from. Expert eases searching documents, texts and highlighting special sections of the documents.
PROs
Simple Interface with basic features
Viewer cum PDF Editor
Has annotation features
Compatible with all Windows versions.
Cons
Not as expert and advanced as other PDF Viewers
Lacks a lot of advanced features
Is convenient for very simple PDF usage.
Get here.
10. Reader from Microsoft
Reader is used for reading eBooks. It lets you arrange, bookmark and annotate your eBook collections. The only problem with this program is that it has not been updated since 2005. Still, the program is doing very well for a lot of users. It is however not very reliable and less often is it recommended by IT professionals and other experts.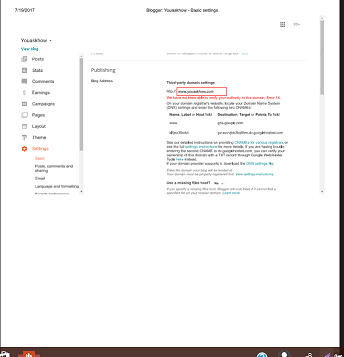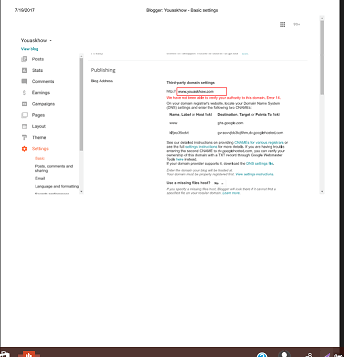 PROs
Lightweight and fast
Simple interface
Annotation features are good but break down during exporting files
Is free.
Cons
Contains no or very less advanced features
Lack of updates has made it outdated
Handy with eBooks only
A lot of bugs make it hard to work with.
Final Words on 10 PDF Reader Software for Windows 10
PDF, being the most widely used documentation format needs certain specialized programs for viewing and editing. PDF readers are those special software programs. These are multi-utility tools that let you amazingly edit PDF documents, save and share them with cloud resources and for other offline usages. Those (above-mentioned ones) are some of our best 10 PDF Reader Software and you can easily rely on them to handle all your PDF documents and related tasks.
Share what you really use for the same via comments. Also, like and share this article to let others access this piece of knowledge.