Windows 10 reservation is an app that lets you reserve Windows 10 for free. The reservation process is simple and this has been brought up intentionally as Microsoft wants to bring as many windows users to Windows 10 as soon as possible. Actually, what Microsoft wants is to reach 1 billion figures so that it can promote Build 2015. Microsoft is providing Windows 10 OS absolutely free. They are basically forming a layout over which it can build up new OS for its users otherwise they have to face the same issue as faced during upgrading Windows XP to Windows 7.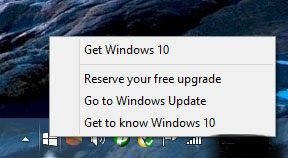 How to Add Windows 10 reservation onto your system
To get Windows 10 upgrade, your system needs to be qualified for that. If your system qualifies for this, you could see a white Microsoft logo in the taskbar which is present next to the clock. This white logo is basically the Get Windows 10 app and it allows you for free windows 10 reservation.
Once you click on the logo, it will open the Windows reservation app. Here, you need to enter your email address. Put down your email id in the place required and it will reserve your copy of the OS. When Windows 10 would be ready (expected to be on or after 29th July), it will automatically download onto your system. The rest of the app could give you a glimpse of the new OS and some of its new features.
Note: –
To get the reserve copy of windows 10, all you have to do is to hover on the white logo and it will show you a message "Get Windows 10". Click on it and you are done.
If you have not had this windows pop up yet, you could follow the following path i.e. C:\Windows\System32\GWX where you will find GWX.exe. Run this file and it will open the reservation app on behalf of the popped up icon.
This app, in general, adds an icon to the system tray which looks similar to that of windows icon that runs the reservation app. The important thing about this app is that it installs Windows Update KB3035583 onto your device which looks out for Windows 10 to be available for downloading.
How to cancel windows 10 reservation on to your system
While some users appreciate this move of Microsoft, others just want to cancel the reservation part if they have already done that. Let's see how to cancel out the Windows 10 reservation.
Microsoft patch KB3035583 is directly related to the Windows 10 reservation. To cancel out this reservation from your system, you could simply use the "Get Windows 10" app. However according to my opinion you should remove KB3035583 from your windows updates. This will automatically remove "Get Windows 10" app from the taskbar.
Let's see on how to cancel windows 10 reservation from your system step wise.
At first, move your mouse over the top of the "Get Windows 10" icon. Right click here and then select "Check your upgrade status" in its context menu.
This will open a new window on your screen. Go to the top left of the screen. Here, you will see a blue graphic comprising of three horizontal lines.
Left click on this blue graphic; this will open a gray menu with headings. Here, look out for "View Confirmation" underneath the "Getting the upgrade".
Once you clicked on this, the gray menu will disappear and you could see a window with message "Your upgrade is reserved".
Here go to the lower left of the window and click on "Cancel reservation". This will cancel your reservation to Windows 10.
You could always go for getting Windows 10 reservation whenever you want if you change your mind. Following the above written steps will only cancel your reservation. To uninstall the "Get Windows 10" app so that Windows 10 would not download itself directly onto your system, you need to remove a patch which is mentioned below.
There is a patch with name "KB3035583". It is supposed that this is directly linked with the Windows 10 reservation. Therefore in order to prohibit Windows from downloading onto your system should be cleaned from this patch. Follow the following steps to remove this patch from your system.
Go to Start button and type Windows Update. Click on the Settings icon in the start menu then Windows update. The Windows Update window will open up on your screen.
Go onto its left side and click on the link "View Installed Updates". This will open a new window named "View your Update History".
Here, click on "Installed updates". This will open a new window with name "Uninstall an Update". Go to the very top of this window. Here, you will find a search option. Search for that patch i.e. KB3035583.
When this patch will appear on the screen, right click on it and press uninstall.
Run windows update again on to your system and search for this patch. If this patch appears again, simply right-click on it and choose "Hide Update". This will hide this patch to ever appearing on to your system again.
Following this article, you have removed the patch and also canceled the Windows 10 reservation. This will prevent Windows 10 from downloading into your system.
Note: –
Following the above suggest procedure will block Windows 10 from downloading onto your system.
If you are worried about Windows 10 might break up your system in case of failed upgrade or incompatibility issue, you can do one thing i.e. create an image backup of your system prior to the deadline of Windows 10 upgradation i.e. 29th In case if something goes unexpected during Windows 10 upgrade, you can use your backup file to revert your entire system to the way it looks before.
Conclusion
Getting Windows 10 reservation might be fruitful and might be not. It all depends on person to person. But one thing which one must make sure is to create an image file of your Current windows. It helps you very much because no one knows what will happen during upgradation. Even there is a slightest chance of yours too to get back the previous version. Therefore, always make sure to create an image file/ backup. It will always help.