How to Stop Upgrades to Windows 10 Using Never 10 – In recent days Microsoft has kicked off dispatching update files to the Windows 7 and 8.1 machines without reckoning with the unwillingness of users. All of a sudden a message prompts on these machines claiming – "upgraded systems automatically". The users who want to stick with the older editions of Windows are perplexed totally and unable to find a way out of this. A tool Never 10 can bring a brightness for them. We have previously written on GWX in this concern which also works fine.
GRC developed tool empowers you to Stop Upgrades to Windows 10. Once you obtain Never 10 utility you can successfully and straightforwardly prevent the Upgrade files on only a single click. Let's see
How to Stop Upgrades to Windows 10 Using Never 10
Hit this link to download Never 10 and after navigation to a new GRC page click the green button on which Download now is written.
Never 10 is a small 81.7 kb file and will be downloaded within a flash.
Go to the folder where the downloaded file is saved and click on never10 red color setup.
A wizard of Never10 comes up on the screen, Click "DisableWin10Upgrade".
Till then you have clicked the "DisableWin10Upgrade" button the machine could not be upgraded but when you change your mind oppositely to upgrade your machine to Windows 10 simply click "EnableWin10Upgrade" button. Now the upgradation will be started promptly.
Few more options are available on Never10 which let you manage the upgrades and updates pretty efficiently.
Apart from this, If updates are available and waiting to be downloaded clicking on "InstallUpdate" button on Never10 wizard to take place the download of files.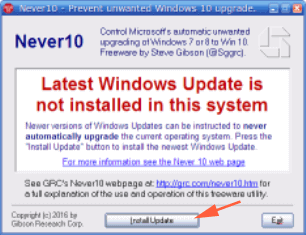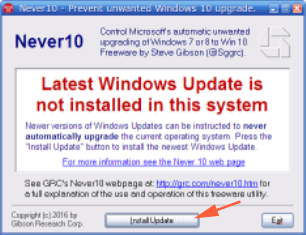 You can say Never10 is an exceptionally simple tool if you are desperate to Stop Upgrades to Windows 10.
The program trace out the updates that are missing and recommends to download and install those. Never10 notifies the "Latest Windows Update is not installed in this system" for this.
The Never10 identifies that Windows 10 is disabled via its own interface on the system.
So download Never10 from the given link and manage the Updates and upgrades without any hassle.