Advanced Audio Player is an audio player integrated with the features of a music device. It is capable of playing almost all of the commonly used audio file formats including WMV, mp4, and WMA avoiding the troubling task of converting the file if necessary. It is a free app and it comes with a pleasant experience. You can also play music using Advanced Audio Player in the background.
It is an app with a distinct interface builds upon metro UI style. The interface is compact and ads free thus making it real easy to deal with. It runs without any interruptions and lags which is a desirable feature that people would opt for. A screenshot of this app is shown below: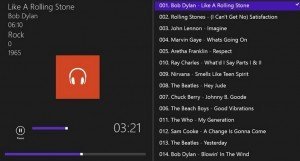 How to use Advanced Audio Player App
First task first, you have to install it on your device through Windows app store. The app icon will then be available in the Metro user Interface of your windows machine where you can use it to launch this application to do the below mentioned things.
When you launch the application a screenshot (above) appears displaying no audio selected. This is a prompted interface as initially there is no input that has been provided. Since now you have not selected anything and the app does not automatically load audio files from the system so you have to swipe from the bottom edge of the screen to reach for the Application Bar Now you will see the action bar where all the functions that can be carried out are given to play with. You will find an Open button on the right hand bottom and on clicking it you will be directed to the file browser page from where you can take all your audio files to this app.
Once this has been done you can now select the audio tracks by clicking on them and it adds to the playlist and the song starts playing at the back. You will get back to the main screen automatically. In the snapshot shown above there are some songs displayed on the screen that have been selected. When you play songs there are options available to control the playing such as next (Right facing arrow), previous (left facing arrow), pause, Volume slider, Playback seek slider. Although not necessarily required but there is a feature of counter in this app that counts the number of songs that have been played since the start.
These are the only steps to be followed to get going with this wonderful Advance Audio Player app.
Key Features of Advanced Audio Player app:
Minimal and easy interface.
No commercials ads.
Playback while doing something else.
Audio track counter.
All the required features present at free of cost.
Conclusion
Advanced Audio Player commonly called as "AAP" is a very lovable app when it comes to playing audio files. You will love the smooth running of this app. Owing to its very little space, it is really very handy and efficient. You can have access to its official website from the link provided below:
Get Advanced Audio Player Here