Here you will find All Improvements, Changes, and Features in Android 9.0 Pie. Earlier, the common belief was "Happiness Lies Within You" but today, this belief is slightly changed to "Happiness Lies with You" (in the form of Smartphone). And, it's time to be happier because Android 9.0 Pie is available now. The aim of this article is to outline all the major changes, improvements, and features in Android 9.0 Pie in the simplest words. So, without wasting time let's start. If you are already familiar with Android, you might be knowing that every year, Google uses to launch a newer and better version. It covers all gaps of the previous edition and includes various interesting new features. This year also a newer version is available and it is named as Android 9.0 Pie.
The emphasis is more on AI (Artificial Intelligence) and it is precisely blended with features to make your device simpler, smarter, and more tailored to serve your needs in a better way. Android 9.0 pie will learn from you and its performance will continuously improve as you use it more. In short, this version of Android adapts to the user's life and the ways he/she use their phone.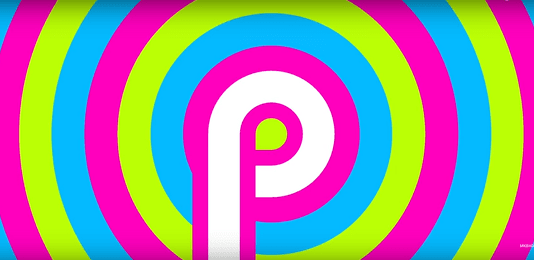 Compilation of all new changes, improvements, and features in Android 9.0 Pie
Let's decelerate your curiosity by highlighting All new changes, improvements, and features in Android 9.0 Pie Google has come up with.
1. A Comprehensive Home Button
You will notice the absence of virtual Recent Apps and Home buttons in Android P. There is only one pill-shaped button in the center which covers functions of both these buttons and more. A small swipe motion on this new command leads the way to perform multiple tasks. In case, you received the latest Android 9 nevertheless find obsolete navigation buttons, then you can enable it easily. All you need to do to enable them from Settings => System => Gestures, and tap Swipe up on home.
2. Enhanced Recent Apps View
A small upward swipe on the pill-shaped comprehensive home button will display the overview screen, where you see all the recent apps. You can swipe sideways to flip between the recent apps and to force-close a running app, just swipe in an upward direction on it. This one of the greatest features in Android 9.0 Pie has made multitasking even more lucrative.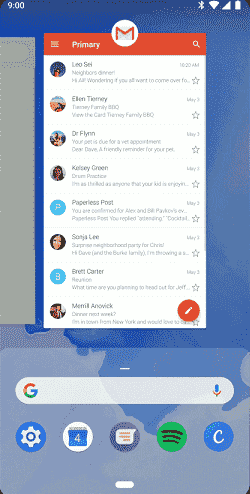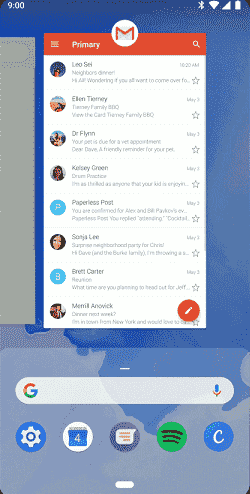 3. Dashboard
A Dashboard is a tool in Android Pie that will help in restraining the time that people spend on their device. You can access it from the new App Menu and it will reveal all the Applications operated during the day and the time you spent on each of them. It will also tell you the number of times you have unlocked your device. Google hopes that such tools will effectively limit your phone usage.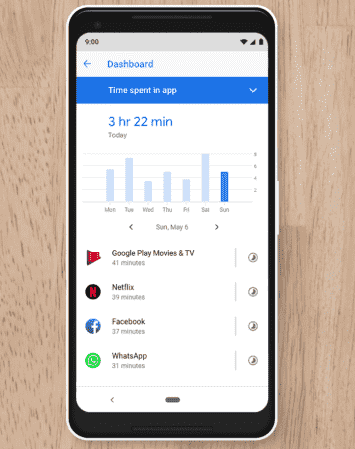 4. App Timer
App Timer is also accessible via "App Usage" menu and this tool provides people to set up daily time limits on their utilization of a particular application. Once the user reaches everyday allocated time, the color of that app turns grey. This does not stop the app usage, the notion behind the change in color is to urge against accessing that application. The Android Pie feature inspires the user to spend more time in the outside world around them.
5. Wind Down
Wind Down mode is a command that automatically starts Do Not Disturb mode at night. This is a brand new feature this edition includes only. You just have to order Google Assistant to set Wind Down at a particular time. After enabling the mode, you will see your phone gradually fading towards grayscale. The motive of this unappealing display is to discourage late-night usage of the phone. Yes, in the morning, the phone automatically returns to normal.
6. Shush Mode
This mode also activates Do Not Disturb. You just have to place your phone on a plane surface with its screen down to activate the Shush Mode. All the notifications and vibrations will be automatically stopped and muted. Note that, Do Not Disturb when activated, is for everything – not only for audible alerts.
7. Now Block Visual Disturbances from Do Not Disturb
In Android 9.0 Pie, Do Not Disturb has received some more options which particularly address the visual disturbances created by the smartphone. Block visual disturbances, the second option allows you to control your phone's behavior when its screen is on and off. You get various options such as Don't blink light, don't wake for notifications, Hide notification dots, and several more. All these give you freedom from disturbances devised by your phone.
8. Adaptive Battery
With every new version, Google launches new tools to optimize power consumption. Android 9.0 Pie has arrived with a tool called Adaptive Battery that manages idle state. During standby, a mechanism called as App Standby Bucket activates and it groups the apps on the basis of usage. The tools and applications used frequently are kept in higher-tier buckets and they can smoothly use background data. On the other hand, apps in the lower-tier bucket cannot consume battery in standby mode. This will boost battery around 30% battery.
9. Text Magnifier
Google has introduced a text magnifier in this version. It is of the same style that Apple is already offering in its iPhone. You can say it as a borrowed feature but for Google, the customer comes first and if some small features benefit customers much, Google won't mind borrowing.
10. Adaptive Brightness
You will say that similar feature, Auto Brightness, was already present in older versions then what's new? Yes, the feature was present but machine learning was not assisting it. Rather than completely depending on the device's light sensors, Adaptive Brightness will value the user's preferences also while adjusting the level of brightness.
11. Modernized App Drawer
When you first time swipe the "pill-shaped home button", the most lately used applications will appear. But as you swipe the second time, a revamped App Drawer will open. The frequently running applications will be in the first line, and the remaining app drawer comes underneath it.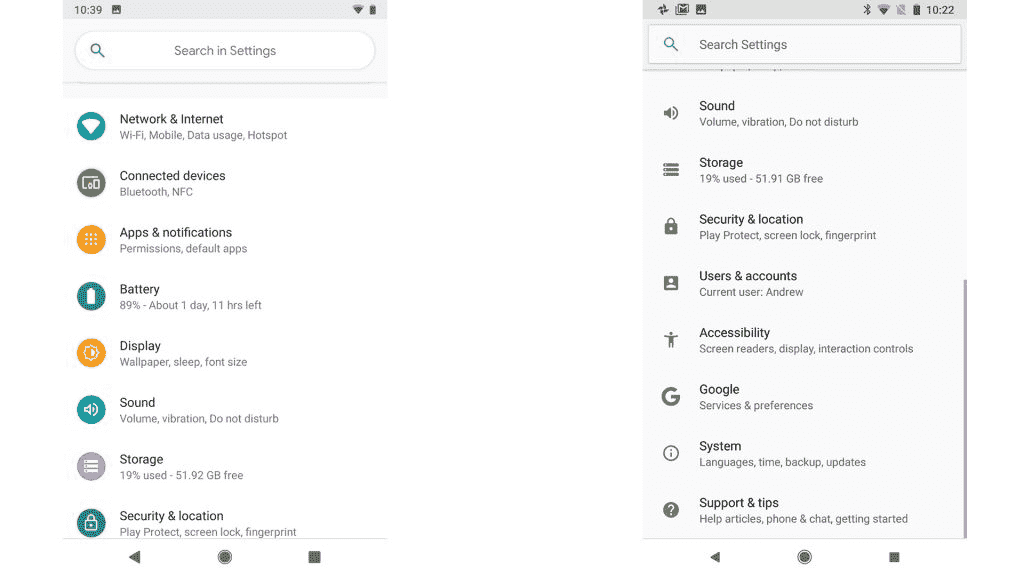 12. App Actions
App Actions feature is also an attempt to enhance the smartness of your device using machine learning. This feature predicts the next task you will perform and present it. Above the app drawer, a line of shortcuts for most utilized applications is present. In Android 9.0 Pie, your search results will include the actions related to those shortcuts. For example, while exploring for a song, a shortcut of your music app will appear in the result. App actions will lead to further actions, like connecting headphones to play the music.
13. Full Beer in Emoji
This is an improvement many users wanted. After the cheeseburger emoji rout, the half-filled with foam clinking beer and single mugs were the target. This newer version properly features in Android Pie 9.0 a full cup of beer with foam.
14. Slices
With the help of Slices, you can see a compact piece of data inside an app without opening it. This small piece of data is visible in the Google Search app which can further assist to take the action directly. There is no need to follow the same old procedure, you can save a lot of time.
15. Now Get Indoor Directions
Android 9.0 Pie includes a software to support the Wi-Fi protocol, IEEE 802.11mc. Also known as WiFi Round-Trip-Time, this Wi-Fi protocol provides GPS-style indoor tracking. With the appropriate compatible hardware, the application in your phone can utilize this protocol to evaluate the distance between one RTT-capable Access Point and another. The app uses this information to determine user's location inside a structure and give the user turn-by-turn indoor directions. This makes navigation in structures with large indoor areas (like malls) easier.
16. Improved Transition Animations
In Android Pie, Google adds colors to the "Settings menu" and improved the transition animations. The movements of rolling up and pulling down the blinds are the inspiration for this feature. While entering into options, the animation is similar to blinds rolling up and while returning, it reverses and looks similar to blinds being drawn down.
17. Multiple Camera Support
Nowadays, most smartphones come with dual camera (rear or/and front). Android 9.0 comes with multi-camera API which uses both the cameras and offers seamless zoom. This version also has various advanced camera features in Android 9.0 Pie which any third-party app can utilize for an enhanced experience. Also, Android 9.0 Pie provides compatibility for external UVC/USB cameras.
18. HTTPS is Mandatory for Apps
All the Applications in Android (beginning with Android Pie) will communicate data via HTTPS by default. There are two protocols used by websites: HTTPS and only HTTP. The primary difference between both is that HTTPS is encrypted, all the communications are done and data shared via HTTPS is safer and better protected.
19. Media Also Controlled by Volume Rocker
The functioning of Volume Rocker has always been a big concern. In this version of Android, media is by default controlled by this feature. The latest Volume Menu in Pie comes with a toggle for adjusting the ringer too. With a single tap, swapping between mute and vibrate has become easy and quick.
20. Welcome the Notches
With the launch of Android 9.0, Google has come up with Support for Notches. Google has introduced three choices for Cutouts and they are – Tall display cutout, Wide display cutout, and Narrow display cutout. It is not efficient as iPhone X, there is hope that future updates will bring improvements such as viewing the media in full screen.
21. Uniform Fingerprint Authentication Dialog
There are various applications that use fingerprint authentication to quickly access your account. In Android 9.0 Pie, the feel, look, and placement of its dialog has been standardized. You will experience uniformity while using "fingerprint authentication" in any of the applications.
22. Passcodes must for Restoring the Device
The backups in the new version Android Pie are encrypted via the device's pattern, password, or PIN. This is yet another effective step to protect data on Android 9.0 Pie because while restoring when you input the passcode it gets quickly unlocked.
23.   Background Apps Can't Access Mic
Another brave step towards strengthening user protection taken in Android 9.0 Pie is to deter the use of a microphone by background apps. There are various malicious applications which record your discussion without your consent. Though Android previously introduced this protection in Marshmallow, the successful development and enhanced user "protection" will be available in this version.
24. Background Apps Can't Access Camera
You already know that the background apps can't use your phone's microphone. In the same way, Android Pie won't allow them to use your phone's camera as well. If any application in the background still tries to access, Android Pie will throw an error message and the app will no longer access the camera.
25. Apps Restricted from Acquiring Network Activity
Till now, Apps can see whole network activity. The applications can't know your traffic contents but they can discover connections, find out to what server the device connects to. This facility is no longer accessible in Android 9.0 Pie and different apps will access the network access differently.
26. Microphone and Camera Indicator Features in Android 9.0 Pie
By now, it is clear that Android Pie has taken several initiatives regarding your security and privacy. Besides restricting the background apps from using your phone's camera and mic, Google via Android 9.0 Pie has also introduced an alert system. This will inform you when any background application uses either camera or microphone.
27. Lockdown Mode
A user can temporarily incapacitate methods of biometric authentication. This is extremely beneficial in stressful situations; the user can temporarily prevent some forceful methods to unlock his/her device. When these methods are not active, one needs to enter password, pattern, or PIN to unlock the phone.
28. Alert Tone While Recording a Call
Yes, call recording is already supported by Android but this new version comes with certain enhanced features. When your phone will record the call, Android 9.0 Pie will instigate an alert tone every 15 seconds informing all the parties involved about the recording of their conversation.
29. Browsers Now Equipped with Autofill
Though Autofill was accessible in Android Oreo also but was not workable with browsers. With the launch of this newer version, the login info and other details will be automatically populated into the browsers. The developers of browsers should update their apps for integrating this new code.
30. No Signal Strength Numbers Features in Android 9.0 Pie
If you used to see the signal strength of your cellular network in dBm (decibel-milliwatts), you will be upset because Android 9.0 Pie is without this feature. The carriers are now allowed to limit the numerical value of their signal strength. One reason for removing this feature is that the average user does not usually view these numbers.
31. Make Alterations to LTE Signal Bars
After removing the signal strength numbers, Android Pie will allow its users to alter the way display bars look. dBm values are not necessary to display maximum signal strengths. Since carriers get the power to alter it, disingenuous LTE signals can appear on users' screen. Moreover, features in Android 9.0 Pie is not only for carrier-branded phones, like hidden signal strength numbers, this facility is available for all operators.
32. Randomization of MAC Address
In Android P, your device will remain protected while communicating online and Wi-Fi MAC Randomization proves it. Your device will get a new MAC address every time it connects to a fresh Wi-Fi network. As you know MAC address is a unique identifier used in the networks to enable communication between the devices. When randomized, your device gets protection against tracking and targeted attacks.
33. Removed App Is Using Battery Notifications
Battery notifications introduced in Android Oreo were found to be annoying and are no more a part of Android 9.0 Pie. The notion behind such notifications was to alert users about the apps consuming battery beyond their normal capacity. However, the feature was also activated and alerted about apps like Google Maps and Firefox.
34. DNS over TLS
In order to provide enhanced protection from hackers spying on the internet activity, this new version of Android has administered DNS over TLS support. Prior to any "DNS" questions and replies, this will securely connect your phone with the server while communicating. In short, anyone monitoring your connection will find it difficult to see what you are doing.
35. Time on Left Side of Status Bar
In all the previous Android versions, time was always on the right-most side of the status bar. In Android P, this is visible on the left, whereas connections and battery status will remain on the right only. The notification icons of apps will also be on the left but after the time.
36. Manually Control Night Mode in Apps
In the previous version, the automatic system theme was available for the first time and the apps using this feature used to change it according to time. In Android Pie, you can manually implement night mode in applications from developer options. From here, you can force a dark theme or a light on the apps. So, you can change the apps to set the night mode based on time of the day. If you want the default settings back, choose Always off.
37. Developer Options Now Feature Flags
People who liked the flag menu in Google Chrome will surely love this feature added to the Developer options menu. Android 9.0 Pie comes with a Feature Flags section which allows you to modify settings in some devices like the looks of About Phone page and how the Date & Time settings will work.
38. Ambient Display Will Show Battery Percentage
People have already witnessed this update in Samsung devices running on Android 8.0 Oreo. The live battery percentage is visible in the ambient display. This feature was very much in demand from last one year and when it is on hand in Android 9.0 Pie, people are more than happy.
39. Now Lock the Landscape Mode Also
When the accidental rotation of your phone's display used to irritate you, lock screen was the option for you. But, you were only allowed to lock the screen in portrait mode. And when you required the landscape view, there was no other option than manually re-enabling autorotation. Android Pie has made it easier because when you twiddle the phone, the navigation bar will feature a new icon (right to the home button). When you select it, the orientation will change to landscape and the screen won't rotate. Returning to portrait mode is quite easy, just rotate the phone and tap on the same icon.
40. Take Screenshots Easily
The combination of "Volume down + Power" is well-known but this combination was very problematic. Realizing that, Google has come up with an additional and easy way to capture screen – with the help of Power menu. Android 9.0 Pie provides the facility to capture screenshots from there. Moreover, this feature is another step towards a button-free phone because you won't require any hardware keys to take screenshots.
41. Edit the Screenshots
The feature to edit the screenshots was primarily available Apple in iOS 11, and Google has launched this feature in Android 9.0 Pie. Now, the task just after capturing them is very much possible in Android P. Though this feature is in its initial stage, expect various new developments from both OEMs and Google in the coming time.
42. Low Battery Will Notify When Your Phone Will Shut Down
Everyone is familiar with the notification of low battery but from this version, there are some new features in Android Pie 9.0. Till now, it used to tell the approximate usage time left but in Android 9.0 Pie, it will evaluate and show the actual period when the phone will turn off. So, instead of notifying that about 10 minutes left based on your utilization, your device will get a notification – Should last until about 1:00 pm.
43. Smart Notification Channels
The notification channels in Android P are more useful. Now, the notifications will come with a small minus sign and when you tap on it, you will get the options as Keep showing or Stop. When you choose Stop notifications, they will not appear in the future.
44. Messaging Improvements
Messaging apps have continuously improved in the past and Android 9.0 Pie promises some really enhanced messaging experience. For example, it is now possible to make the images visible in the notification shades for the incoming messages. Moreover, smart reply offers suggested replies which makes it easy to quickly respond. You can save the unfinished messages in the form of drafts so that you can finish the typing later.
45. Smart Text Selection Will Work on Overview
You are already aware of Smart Text Selection (yes, it realizes the text meaning and suggests appropriate actions).  The good news is that this feature will now work on the Overview of recent apps. Android P has made it easier to carry out the actions you want.
46. New Collection of Emoji
Android 9.0 Pie has introduced more than 100 new emoji. Many gender-less, multiple skin tones, different hair colors (or bald) are some of the new additions. All those who wish to see the new emoji collection should wait for this update on their phone.
47. Downloads App is now Files
Now, the new name of the Downloads app is Files. Right now, it looks like a simple change in name but in the future, there is a lot of scope for its expansion.
48.   Android Runtime Enhancements
Android 9.0 Pie has made some significant changes and one of them is the inclusion of Android Runtime Enhancements. With this feature, apps will use less memory and run faster because they will be able to rewrite their own execution files on the phone.
49. Other Changes and Improvements
There are a number of other small improvements too, HDR VP9 videos are now supported, an image decoder for bitmaps, and enhanced performance of job scheduler are some of the many new changes, additions, and improvements in Android 9.0 Pie.
These will surely make the list cross 50, but that is not the motive here. The aim is to introduce you to every new feature, changes, and improvements Google has come up with in the form of Android 9.0 Pie. When most of these advances and additions can be directly accessed by the user, some of them need to be infused by developers of a particular device.
Android Pie is the most advanced way to interact with technology. OTA update to Android 9.0 has been antecedently begun rolling out to Pixel smartphones. Also, the devices which were a part of Beta program from the companies like Sony Mobile, HMD Global, Xiaomi, Vivo, Oppo, OnePlus, etc. And all the qualified Android One phones will get the updates in next few months. Enjoy the best version of Android!