The latest Mozilla Firefox 20 or onward browser version has introduced a helpful feature. It does not install third-party cookies if you have not visited that site. The similar feature is also available in other most-used browsers.
What are third-party cookies in the browser?
When you visit a blog or website in the browser, you will get a share button of different social sites on the post or web pages. These buttons are called third-party cookies and install itself. The third-party cookies contain your personal information and can track you by installing cookies on your computer. If you like to block Third Party Cookies in web browsers like Google Chrome, Firefox, Internet Explorer by default then follow the below given tips.
How to block Third Party Cookies in web browsers
1.     Mozilla Firefox Browser
Start your Firefox browser.
Click on Menu and select Options from the drop-down menu panel.
From Options window, select Privacy and Security tab.
Then click on drop down box under History tab and select Use custom settings for history.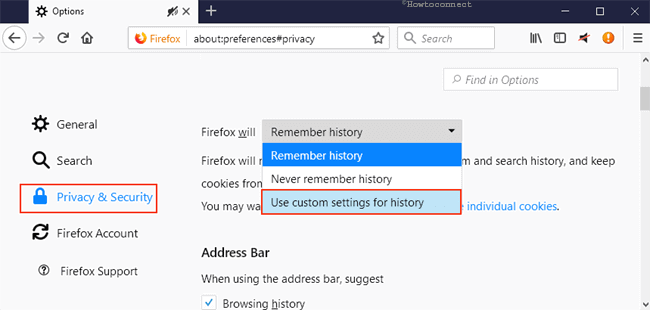 Next, uncheck the option – Accept cookies from website.
Close the browser and open it again to get the settings in effect.
2.  Internet Explorer
Launch the Internet Explorer browser.
Go to the top left side and click on gear icon.
Next click on Internet options menu from the menu panel.
Then a window named Internet options will appear.
Here, click on the privacy tab from tthe top menu panel. Then click on Advanced button.
Under Advance Privacy Settings pop-up, check the override automatic cookie handling option.
Again under third-party cookies section, check Block button.
Finally, click on OK button to keep the new changes in the internet explorer.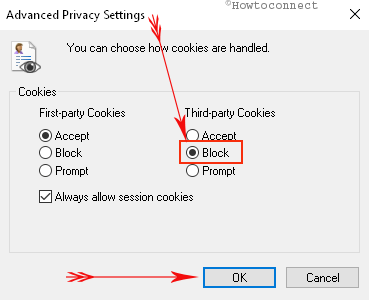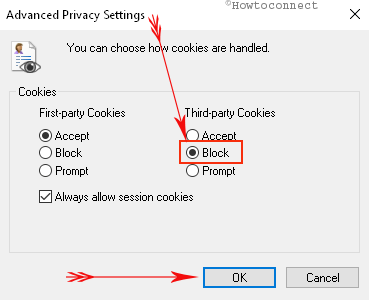 3.  Google Chrome Browser
Launch your Google Chrome browser.
Click on 3 line button on the upper right corner which says customize and control Google Chrome.
On the Settings page, scroll down to bottom pane and click on Show Advanced Settings button.
Then click on Content Settings button from Privacy section.
Under Cookies section, select the option – Block third-party cookies and site data
Finally, click on Done button to save the new changes.
Caution
After blocking the permission of third-party cookies above any browser, it may affect your browsing experience with several websites. Then I recommend you to undo the changes into browsers for third-party cookies.