Methods and Steps to Change Characters Length of Login PIN Windows 10. – For Fast and convenient login, Windows 10 provides you Create PIN. You might have known the recent improvement according to which you can lengthen or shorten the Login PIN on This latest Windows OS.
So, you can keep Windows 10 PIN Length from greatest 127 to lowest 4 characters. Group policy editor includes two Settings for this purpose in PIN Complexity. These are Maximum PIN length and Minimum PIN Length. Using both the settings you are able to choose the number of characters between which the PIN will vary. Therefore, here you will see a guide explaining the whole process to set the minimum and maximum limit of numbers in this regard.
Change Characters Length of Login PIN Windows 10
Step 1 – Press Windows key, to expand Start menu and type gpedit.msc. Once you see the same gpedit.msc at the top hit Enter.
Step 2 – Navigate to the Policy Administrative templates => System => PIN Complexity in the left pane of Group Policy Editor.
In the right pane locate 2 keys – Maximum PIN length and Minimum PIN Length.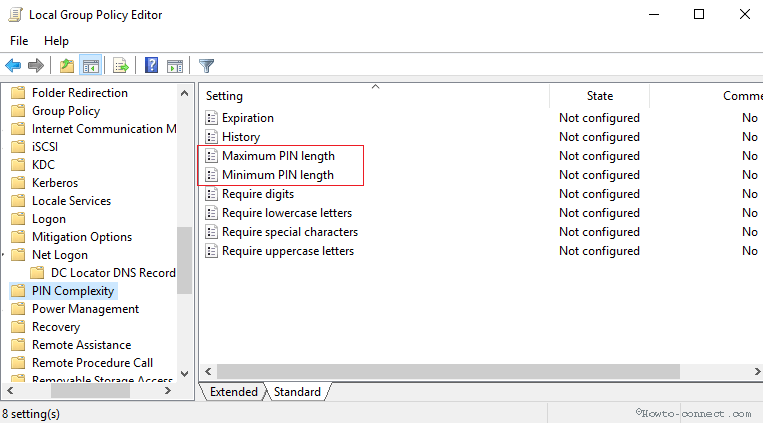 Step 3 – Double Click on the first one saying Maximum PIN length, select Enabled on the Policy setting Window. Move to the Options section, click drop-down, and select your desired number. Lastly, click OK.
Step 4 – In the same way double clicK on the policy-setting Minimum PIN Length and choose Enabled. Go to the Options section of the Policy setting dialog and click the drop down next to Minimum PIN Length. Select a suitable number and finally, click OK.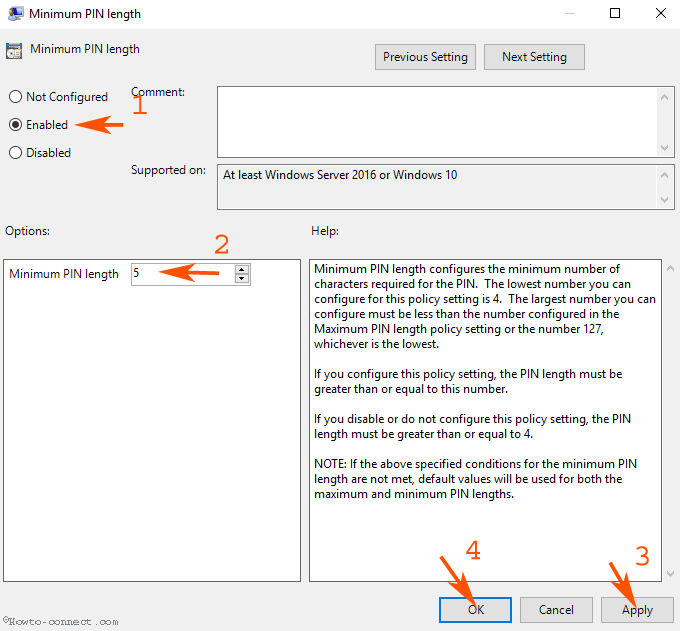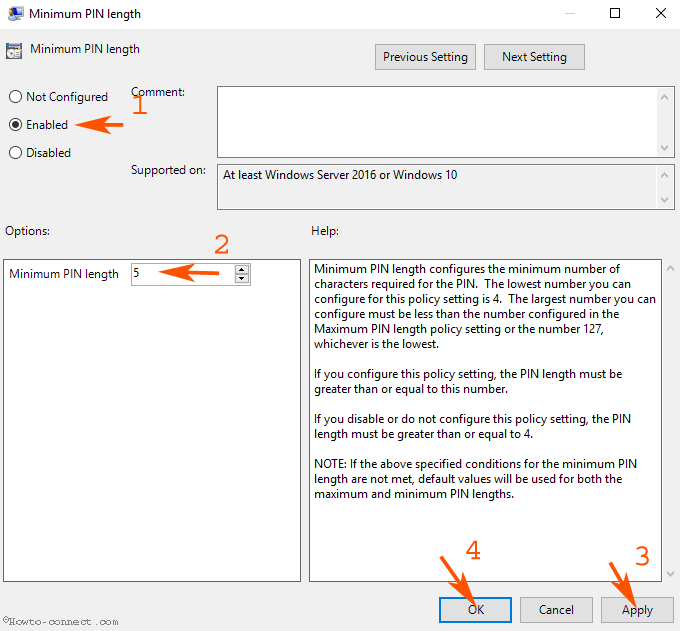 Important – Suppose you choose Minimum PIN Length 5 then remember that the PIN you will create must include at least 5 numbers. For example, you can set 5 number PIN – 12345. In addition,  you can set Windows 10 PIN comprising more than 5 numbers such as 1234568876, 987654678909876509876, etc.
In an alike way, when you choose the Maximum PIN length, the number you will use in PIN will be lower than or equal to the number. If you set 10 for the Maximum PIN length, then you will set the PIN either of 10 or less than 10 characters.
Summing up, you would set Windows 10 PIN length between 5 and 10 if you have followed the above options exactly in your gpedit.msc.
Few users prefer to How to Start Windows 10 Without Password Automatically, to skip the botheration of login password. If they use PIN of a moderate length it would be better for the security and comfort of the users.
Winding Up
This is the way, you can Change Characters Length of Login PIN Windows 10. We recommend choosing a complex PIN so that you could prevent vulnerability on your Windows 10. However, remembrance is also an important factor you should also care for this while selecting the number of characters. So keep a balance between the two and enjoy it.