Google often comes with updates and changes to its different products to streamline user experience. This is the time of Chrome which is unanimously one of the best browsers on the web. Yes, Google has decided to apply few new features in Google Chrome for desktop and Android users.
Android and desktop Users who use Google Chrome will get few advancements in the browser in coming few days. Google is going to apply new items to enhance browsing experience for them. With these changes Chrome users for desktop will be able to search by image as well as Android users who exercise with chrome will get new gestures for quick navigation between tabs and access menu.
Chrome Update for PC:
Google Chrome users can search by image. You can right click on an image if you want to search through image. A menu will be prompted in which you will find Search Google for this image.
Chrome Update for Android:
Google has announced few updates for Google Chrome for Android for this week according to which:
You can shift between tabs very fast by swiping over the to toolbar.
You can get in the tab switcher view by shuffling vertically down from toolbar.
You will be able to open a menu through mere dragging and you will not have to lift your finger for choosing any item.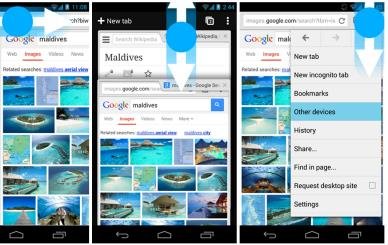 In forthcoming days these changes will be effective for desktop and Android users.