ConvertPad is a free app for windows used for unit conversion from one measurement to another. You can convert various things like Time, Fuel, Length, etc. to their different sets of units. All you have to do is to put down the numeric value in the input box and this app will give you the numeric value in the Output box. Add the converted unit just after you get the numeric value. Note that the output results will be shown in a tabular form with a variety of units of the same category with actual numerical value in any specific unit. Besides this ConvertPad has inbuilt calculator.
The interface of this app is very neat and clean. The designers of this app have done a great job in developing this kind of beautiful and awesome interface. A lot of effort has been made to keep the design simple, at the same time it is powerful. Conversion takes place as you type (in all units). It has all features that you can think of.  Most of the things are self explanatory in the interface of this app. A screenshot of its interface is shown below: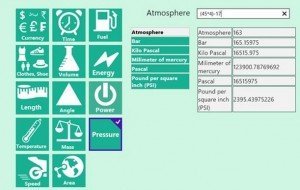 How to use different features of ConvertPad  app 
As the proper installation is done, the above picture will pop-up once you run this app on your Windows machine. Here, you will see a list of different things which could be measured like: Fuel, Temperature, Mass, Volume, Area, Speed, and many others. At first, just select the particular category of which you want to know about the different units. For example, I chose Mass in the Table of categories above mentioned. This app then brings you a table of different possible units of the mass category.
You have to select the unit in which you want t to give the input to this app. Rest of the units are shown just below to the unit you have selected. The moment you put down a numerical figure in the input box, it will show the converted value in different units section within a few seconds.
You can also use this app as a snapped view so that you could work on multiple tasks without altering the windows. There is a section named "Favorites" here in this app where you can add your favorite units of different categories. You can also remove it if you don't have the need for it for further uses. There is also a Portrait mode available here inside this app.
Key Features of ConvertPad App
Completely free app and very simple to use.

Uses a very little space of your system's memory.
Works very fast and effectively.
Converts one unit to all other units of the same category.
A big pickup of various units.
No promotion of ads makes it more efficient.
conclusion
ConvertPad is really a nice application as it helps you in converting one set of units to others in a few seconds. It is a great unit converter app. Having access to this app could help you in many ways. You don't have to search different sites on Google for the conversion of a single unit to another which takes time as well as there is need for internet connection for every time you want to do the conversion. Having this app would save you precious time and could give you more true results in the least time with no net wastage. You can get this app from the link provided below: