If you often grab applications through Microsoft Store you may have noticed that certain apps or games start playing video when you open their Store page. Some users though few, found this somewhat interesting but a good number of people dislike it. Thankfully, the recent version of the OS includes an option to manage this behavior that lets you directly Disable Video Autoplay in Microsoft Store.
Microsoft Store (previously known as Windows Store) features lots of exciting elements such as Fluent Design, transparency effects, and so on. However, the recent version of it enables the autoplay feature by default. So, whenever you launch Store page of any app or game, the video associated with it starts playing, for example – the game Kholat. These videos are basically the trailers of the app or game. But now you can effortlessly Disable Video Autoplay in Microsoft Store in Windows 10.
Note – Turning off this feature will not be effective to the background videos that play all by itself when you launch TV shows or movies in Microsoft Store.
How to Disable Video Autoplay in Microsoft Store in Windows 10
Windows 10 comes with the latest Microsoft store which eventually comes with a wholesome lot of user interface friendly capabilities. So, follow the below sequence of steps to Disable Video Autoplay in Microsoft Store.
Step 1 – Open Microsoft Store by double-clicking its icon that resides on the taskbar.
Note – If you did not see Microsoft Store icon at the taskbar, then there are chances of it to be either unpinned or probably not installed.
On Cortana text field, type Microsoft Store, right click on the result. From the options, choose Pin to taskbar and this will pin the icon to the taskbar.
If you cannot locate it using the unpin method above then you have got to install it.
Step 2 – Once Store opens up, click on See more button (…) on the top right side. A menu drops down, click Settings.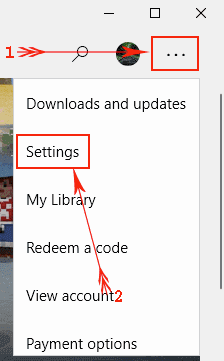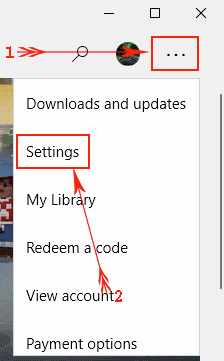 Step 3 – In the Settings page of Microsoft Store, locate Video Autoplay section.
Step 4 – Just toggle OFF its slider to immediately Disable Video Autoplay in Microsoft Store in Windows 10.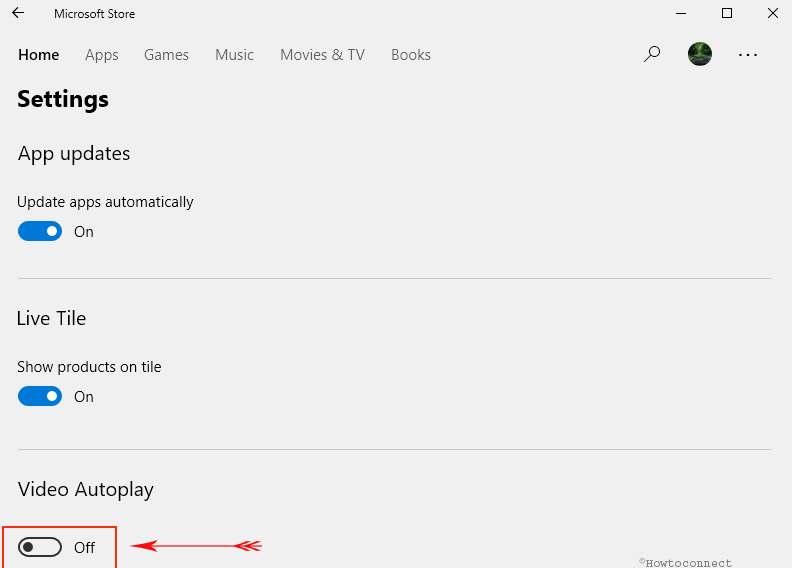 Note – You can always re-enable it by following the same procedure and toggle On the above button.
You will be able to see this option only if you are running Version 11710.1001.13.0 or higher of Microsoft Store. You can see the version of the app on its Settings page itself. Just scroll to the bottom and you can notice its current version.
Conclusion
Windows 10 is not an exception when it comes to Video autoplay functionality. As the name implies, it is a feature that enables video to play automatically when you visit a certain app in the Microsoft Store. But nothing to worry, as it also lets you stop this service through the settings page of Store application.