Today we are going to talk about Beautiful Norway Windows 10 Theme. This country is known for the beauty of nature and Microsoft has tried to make you enjoy on your desktop. This free package comes with 18 amazing wallpapers. It provides you stunning desktop backgrounds that cover the beauty of pristine waters, majestic fjords, polar lights, misty mountains moreover snowy villages.
Microsoft Store provides a great collection of themes but Beautiful Norway makes an appeal to you. If you are nature lover then landscape sceneries in this Windows 10 theme will definitely attract you.
How to Download Beautiful Norway Windows 10 Theme
Here's how to Download Beautiful Norway Windows 10 Theme and install –
Step-1: Open Microsoft Store by clicking its icon that by default exists on the taskbar.
Step-2: Search for Beautiful Norway and select the same app from the result. Once its details show up, click the Get button.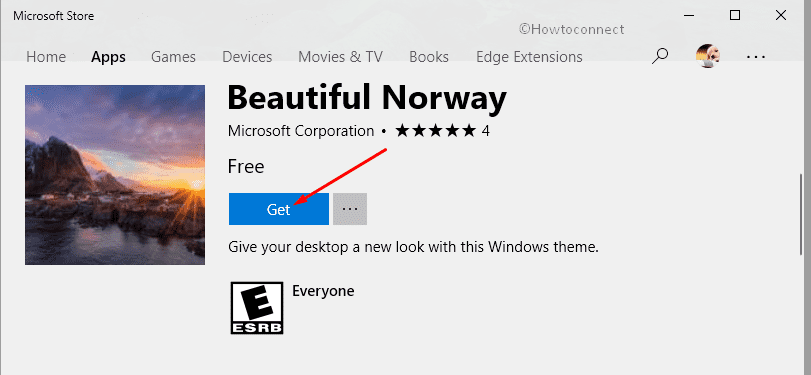 Note: In case, you are unable to search the appropriate app, visit this link and grab this awesome theme application.
Step-3: After the theme is being installed successfully, make a right click in an empty space on your desktop. When the desktop context menu appears, click Personalize as shown in the given snapshot.
Step-4: When Personalization settings page opens up, go to Themes section on the left column.
Step-5: Now, shift to the corresponding right pane and you will notice the theme Beautiful Norway. Just select the theme and Windows will immediately apply it on your PC.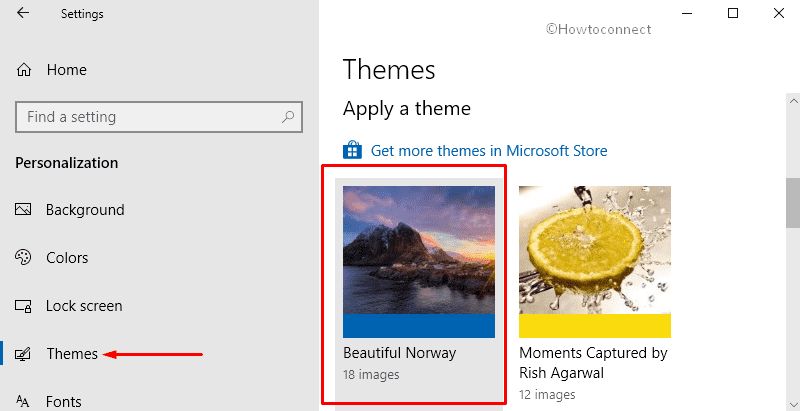 See: How to Get More Themes online From Store Windows 10.
Step-6: Go to the desktop and you can experience an amazing view of Norway.
You can grab this Beautiful Norway Windows 10 Theme directly from Microsoft Store. After downloading the theme, you can manage it easily from Windows Settings page.
Depending on your slideshow settings, Windows 10 will change the wallpapers accordingly. By default, it changes after 1 minute. However, by navigating to Settings => Personalization => Background, you can manipulate slideshow settings as per preferable.
To download and use Beautiful Norway Windows 10 Theme, your system should fulfill certain requirements.
1. Windows 10 version 14951 or higher.
2. Supports on both x86, x64 systems.
Give some personal touch to the theme and then see How to Save Windows 10 Custom Theme.
That's it. Now enjoy the beautiful scenery of Norway.