Windows 10 allows to quickly and easily Export Store Book Data from Microsoft Edge. Since Creators Update, this built-in web browser supports EPUB file format. For regular E-book readers, "EPUB" provides text file (with special mark) and Zip file compression.
On the initial Windows 10 version such as (1703), you can read notes, bookmark pages, delete notes and many other features. Moreover, Annotate EPUB Books, highlight, underline text and add web notes are quite effortless tasks on Microsoft Edge. All these abilities come in the browser dues to EPUB.
When you Export Store Book Data from Microsoft Edge it saves the changes, bookmarks, and favorites on your desktop.
Export Store Book Data from Microsoft Edge
Here is How to Export Store Book Data from Microsoft Edge –
Step-1: First of all, launch Microsoft Edge by clicking its icon that exists on the taskbar.
Step-2: Here, make a click on three dots located at the top right corner of the browser. Now scroll down to the last, and click Settings.
Step-3: Moving ahead, click "View advanced settings" button on the following bar as shown in the below snapshot.
Step-4: Scroll down and navigate to the Cookies section. Here, click on Export book data button (see snapshot).
Step-5: A dialog box will prompt up with two sign-in options. You can either choose to sign in with your "Microsoft account" or "Work or school account" depending on which owns the EPUB books. Choose the correct account and click Continue.
Step-6: Finally, save the Export.zip file that contains your data to any of your preferred location.
Now, depending on the size of your e-book collection, the export may consume some time. However, you need to be little patience during the exportation. The browser will eventually collect everything associated to your EPUB books and place them into a ZIP archive.
How to Clear Ebook Data in Microsoft Edge
In Windows 10's recent update there are numerous changes carried out by Microsoft. Starting with build 17093, the OS allows you to eradicate notes, reading progress moreover bookmarks for EPUB books that you read o Edge. This ability also supports the EPUB books that you obtain from Microsoft Store.
The good thing is that with one click only you can wipe out book data in Edge, the built-in browser. So, let us head towards the below sequence of steps.
• Get access to Microsoft Edge browser and click on three dots (Alt+X).
• Once a list of options comes into view, click Settings.
• Click View advanced settings button on the next pane.
• Go to the Cookies section and click the button namely Clear book data.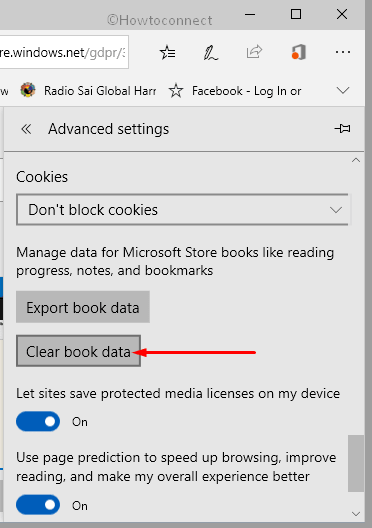 • A new dialog will prompt, confirm the operation by clicking Clear data button.
• You can confirm the removal of book data when All done message appears.
To make Windows 10 OS fast, smooth moreover safe, Microsoft develops a new web browser named "Microsoft Edge". It is a part of Windows 10 family which is designed to make browsing experience pretty easy. Some of the latest features of this built-in browser are that it lets you Add Translator to Microsoft Edge, Manage PDF, Turn on Extensions in InPrivate Mode and so on
Now with the latest update of Windows 10, some advanced features of Microsoft Edge browser's e-book are given below:-
1. It provides three themes page and book style.
2. Able to change font style and font size on an Ebook.
3. Decide Distance between two or more text.
4. Provide feature to bookmarks your page, read aloud and highlights the text.
Hopefully, by following the above sequence of steps, you can easily Export Store Book Data from Microsoft Edge. Moreover, if needed, the browser also provides you an option to clear out book data.