Yesterday, I have written the features of Prime Tube apps for watching latest YouTube videos in windows 8. Today, I am going to explain a new Windows 8 app named Chameleon. Through this app, you can configure lock screen background with random or desired picture at expected interval.
The Bing search engine Pros Cons:
Chameleon has given facility to download home page wallpaper per day without any payment. With the reference to it, the chameleon app has a feature to use the Bing homepage wallpaper for windows 8 lock screen. The Chameleon app is the best choice for those windows fans, who want to watch a new and updated background on the lock Screen automatically.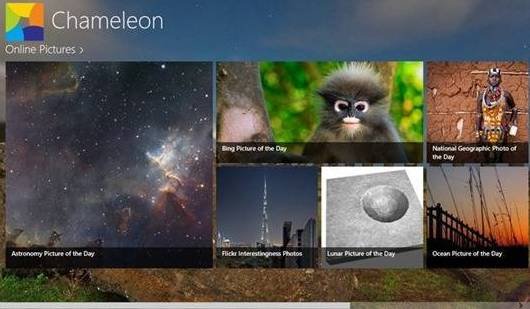 Features of Chameleon app – 
Toggles lock screen background routinely.
Sharines wallpaper or personal picture over the internet.
has an option to direct download latest Picture or wallpaper from different sources.
How to Install Chameleon app from windows store?
At first, press shortcut (Windows key+ F) to start metro search window.
Next type keyword "Chameleon" in the Search box and click on Store button in the right panel.
In few seconds, you get search results page of windows store with Chameleon app. Install it.
How to access Chameleon app?
As soon as you install the Chameleon app on Windows 8, launch it from start screen.
On app main page, you will prompt a huge number of picture albums which get updated often with the most recent wallpapers through synchronization feature.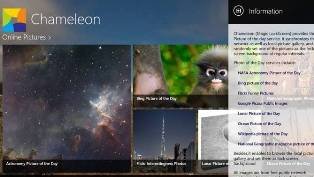 To modify the app settings under lock screen or set the break time for fresh wallpapers, hit right-click at the bottom of app screen. Then put the anyone time value between 15 Min to 2 Days .