Be ready to decorate your screen with stunning Cosmic Beauty Theme for Windows 10. This includes 20 wallpapers of celestial and magnificent photos of the Universe, from the Hubble Space and terrestrial telescopes. Enhancing the impression of your system screen is quite easy as the .themepack file is available in Microsoft Store even free of cost. This is one of the coolest Windows 10 themes.
Have you ever wondered to have perfect wallpaper? Having a fabulous home screen makes the PC look just beautiful. It is said that the first impression deeply impacts us and there is no limit to the imagination of art in nature. Nature is full of beauty which keeps on changing i.e. either creating or destroying. If we talk about our computer, wallpaper also has the same impact as nature. When we open our system the beauty of screen/wallpaper stuff our mind. When you update your old Window operating system to a new version, a new set of themes get installed too on the PC. So, here in this article, we are going to discuss such an application which help in making your PC's look simply amazing.
How to Download Cosmic Beauty Theme for Windows 10 and install
Here is how to download Cosmic Beauty Theme for Windows 10 and install –
Step-1: Sign in to your Microsoft account then follow the detailed instructions and proceed with basic credentials like phone no, email or Skype.
Step-2: Open Microsoft Store by clicking the Taskbar pinned icon.
Step-3: Type Cosmic Beauty in the search bar and click on the same from the drop-down.
Step-4: Click on Install and wait for few seconds. If you experience it's taking too much time follow – How to Increase Store App Download Speed in Windows 10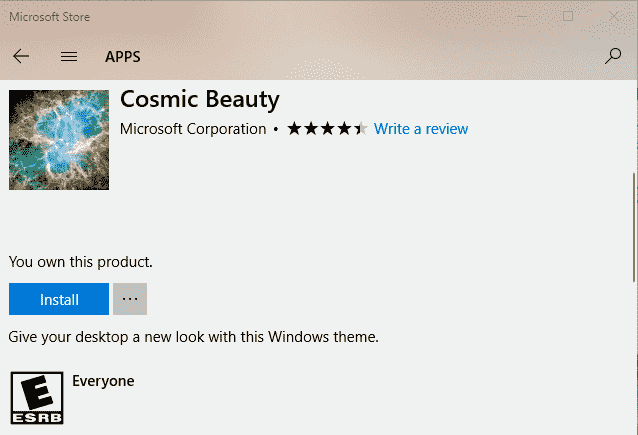 Step-5: Right click on the desktop and select Personalize, the last option.
Step-5: Select Themes from the left column, go to the right side and click on Cosmic Beauty.
Now Enjoy the astronomical theme.
If you want to get this app you require to have minimum Windows 10 version 14951.0 or higher required on your system.
Cosmic Beauty Theme for Windows 10 features
Cosmic beauty is a theme in Microsoft Store designed for Windows 10. It is developed by Microsoft Corporation to make your system the perfect look it desires. There are 20 sets of screenshots which provide a new look to the System. Cosmic Beauty is totally free for Windows 10. You can use these pictures only for wallpaper purpose however if you wish to get more themes, you can buy any theme available on its home screen. Several users have reviewed this app and have given good ratings. You can get the theme on the maximum of 10 devices using your account on Microsoft.
According to reviews of users, the gives good response and love to use these amazing and cool pictures.
Published by Microsoft Corporation
OS Windows 10 version 14951.0 or higher
Architecture x86, x64, ARM
Release date 10/08/2017
Approximate size 13.34 MB
Category Personalization > Themes
Language supported English (United States)
Note: – If you are Windows 8 user and don't want to upgrade your system but love this beautiful app, you can check out the compilation of Windows 8 themes.
That's all