Vampix is a free photo editing program that can give you eye-catching effects to your photos. This small software provides you quick and easy color or black&white effects to make your images impressive. Vampix is totally compatible with Windows 10 and other Windows versions. You may See a guide on one more and similar utility – Remove Text, Patch, object, Border From an Image Using Inpaint.
Vampix only supports the pictures with JPEG format but its simple interface makes it easy to use the tool. Along with the effects, it also offers you three types of thresholds to choose for the image. Let us enter the guide and see how to use this image editing tool on your Windows PC.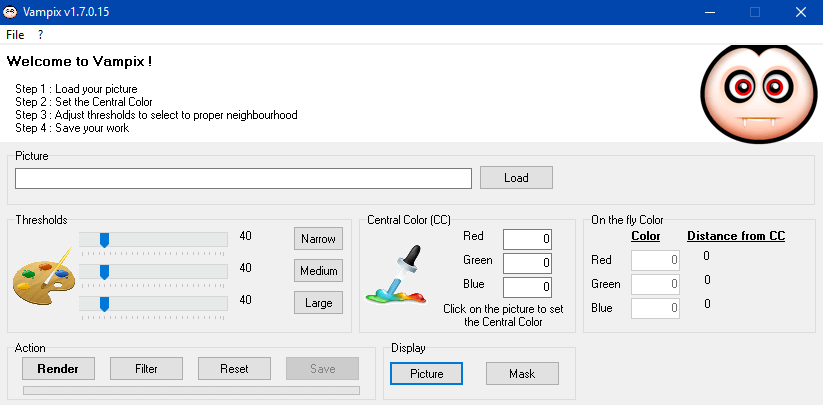 Download Vampix Color Splash Photo Editing Software for Windows
Step 1 – Click here and Download Vampix. Choose the installer as per your preference and download the utility.
Step 2 – Once the Download gets over, double-click vampix.exe file.
Step 3 – Follow the guidelines on the installation dialog. After the installation of this utility, its main window comes into view.
Step 4 – To start with, click Load button on the main window of Vampix and select the desired picture.
Step 5 – You can see the original photo on the right pane and the preview pane on the left display your modification on the image. Well, the preview pane is just the greyscale version of the original.
Step 6 – Click on any color in the original picture and the preview will show every pixel of that specific shade. The Central Color (CC) section shows the values of Red, Green, Blue you are using for editing the photo.
For example – If you click blue sky, then all the similar pixels on the preview will appear blue, and everything else stays gray. However, the On the Fly Color section shows you the difference between them and Central Color you have selected.
Step 6 – After setting the Central Color, fine tune the picture by setting the Threshold. The Threshold section includes three types – Narrow, Medium, and Large.
Narrow – Narrowing the threshold matches the selected color more accurately but displays less color overall.
Medium – It maintains the balance between the tolerance and matching of the color.
High – Increasing the threshold extends its tolerance and moreover, shows more of the original shade in the preview pane.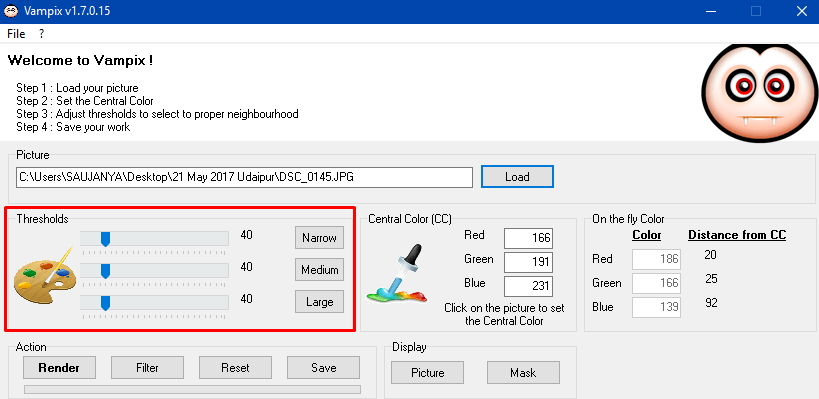 Step 7 – After setting the Central Color and Threshold, you can also experiment with other options such as Reset and Filter. Finally, click Save button to implement the changes you made on the picture using Vampix.
Also, to completely customize your Windows 10 PC, you may like to Download Windows 10 Black Theme.
Conclusion
So, this is the complete guide to Download Vampix for Windows including the steps to use it. It is a lightweight software so, uses a moderate amount of your CPU. Hence, download Vampix and fill colors or give black-white effect to your picture as per your choice.