Methods here will guide you to fix DPC_WATCHDOG_TIMEOUT error in Windows 10. From the origin, it is a BSOD error and nowadays pretty common with the users. As the name is a self-explanatory one, with an effect you can get abnormal blue flashing on screen. Hanging of Desktop might be common as well. But the maximum damage caused by it is, Windows undergoes continuous restarting once affected by the issue. The error has a bug check value of 0x0000014F. It actually indicates the failure of a system resource to respond within an allocated time frame meanwhile prevents the system from exiting connected standby.
Majority of the Blue Screen errors like DPC_WATCHDOG_TIMEOUT occur due to system having outdated and incompatible drivers. Whereas, missing system resources due to malware attack or conflict between similar programs are equally responsible for causing the same. Memory problems, corrupted System components, low disk space, Hard Disk with bad areas present, outdated BIOS adds momentum to the previous causes. Nowadays, the error has become so vulnerable that we have to take necessary actions before it's too late. We will discuss all the possible resolutions to eliminate this risk in the following segment. Here are the jump links to resolution processes and resources discussed in the article –
DPC_WATCHDOG_TIMEOUT Windows 10 Solutions
Here is how to fix DPC_WATCHDOG_TIMEOUT BSOD Error in Windows 10 –
1] Disable Automatic Restart
When a BSOD error occurs in a system, the major issue that everyone face is Automatic Reboot. The whole mess up happens in a quick manner on your computer and you don't really get enough time to decide. While troubleshooting blue screen, this comes as an obstacle. Therefore, you need to immediately disable auto restart setting. Here is the way to do so –
First of all, save all any ongoing process and close them. You may also minimize them temporarily.
Step-1: Press the shortcut Win+D at once and move to Desktop area directly.
Step-2: When in place, right click on the This PC and select Properties option.
Step-3: System window will come up in a separate window instantly. From there, select Advanced system settings lying in the left pane.
Step-4: When the System Properties popup shows, you will find self into the Advanced tab.
Step-5: Select Settings located under Startup and Recovery section.
Step-6: Navigate to System failure and uncheck the box before Automatically restart option.
Step-7: Hit the OK button from the bottom.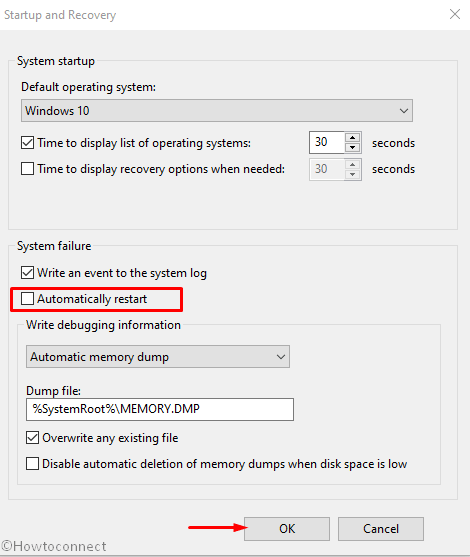 Once these changes are saved in windows, it will no longer reboot automatically. Therefore, you can apply further workarounds smoothly.
2] Update BIOS to Fix DPC_WATCHDOG_TIMEOUT
BIOS is a very important part of a computer system.  Though being a software element, many Hardware components are entirely dependent on it. An outdated BIOS can be a reason for vulnerabilities like DPC_WATCHDOG_TIMEOUT Error.
Right click on Start and select Run.
In the empty text area, write "msinfo32". Press Enter.
In System Information Interface, find BIOS Version/Date.
Now, Launch the Web browser in windows and navigate to the manufacturer site for your BIOS.
Download the latest version. Keep the charger plugged in while doing the task using a laptop.
Open the containing folder when the downloading gets over.
Do a double click on the file to install it.
Once all the processes finish up successfully, Restart the device to make all the changes effective.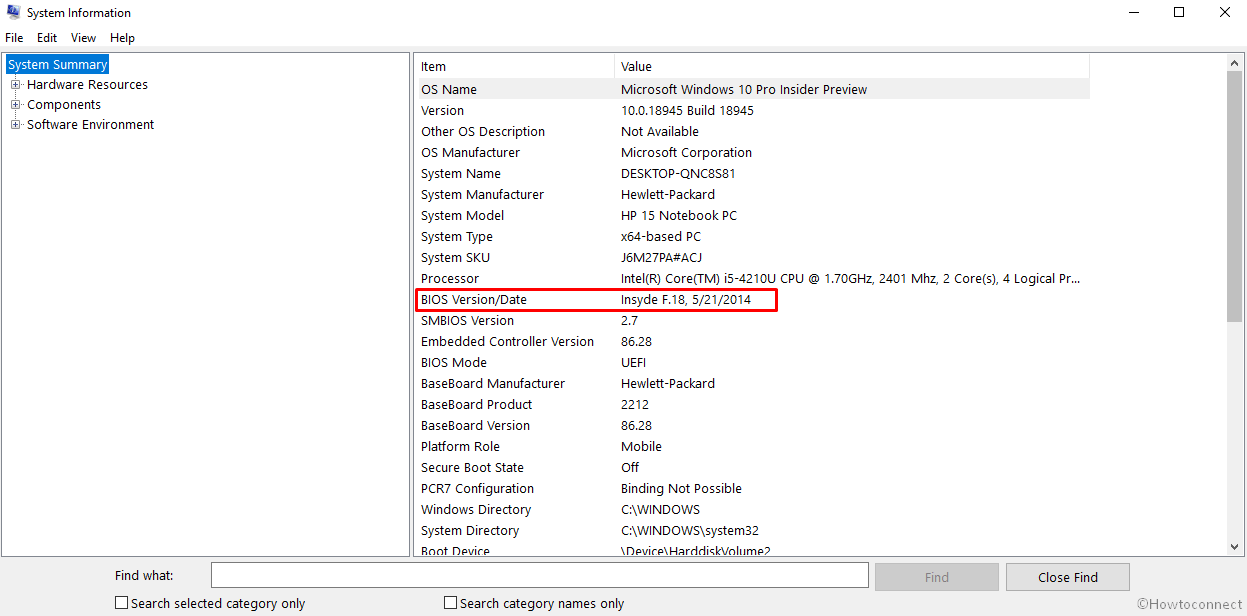 3] Fix Memory issues immediately
Faulty RAM and incorrect allocation of memory devices altogether can be so dangerous to cause DPC_WATCHDOG_TIMEOUT Error. If your computer is suffering from these issues, this should be treated immediately. Windows Memory Diagnostic tool can be pretty helpful in this circumstance.
Open Taskbar Search by pressing Windows and S keys simultaneously.
In the empty box provided here, type "memory".
Choose Windows Memory Diagnostic when showing up under Best match.
Prefer to select "Restart now and check for problems (recommended)" after a small window of the tool displays 2 options
After the device finishes the first cycle of rebooting, you will notice a blue screen detecting memory issues.
When the progress hits 100 %, windows will prompt to reboot again.
After the desktop loads, the result of diagnosis will be available in the System tray.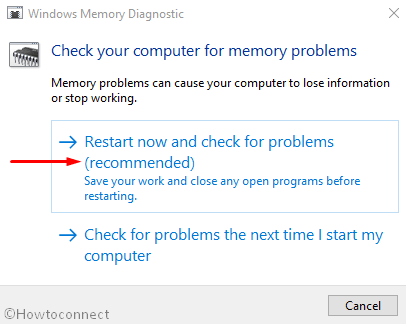 4] Settle down bad sector in Hard Disk
Because of prolonged use, Hard Disk might be affected itself evolving bad areas inside. This is in a sense obvious and we cannot really control. But you can fix these segments using Disk Checking tool executing in Elevated Command Prompt. To access the tool, move with the following instructions –
Invoke Run dialog by pressing Win+R hotkeys.
When it arrives, type cmd in the provided text space.
Now, press Ctrl+Shift+Enter keys and head to Elevated Command Prompt directly.
When the black window loads successfully, enter following command line there –
chkdsk C: /f /r /x
Now, execute the command by pressing Enter key.
In a few minutes, Disk checking utility will detect and fix those problematic areas automatically.
When the process completes, Perform a Restart to the device.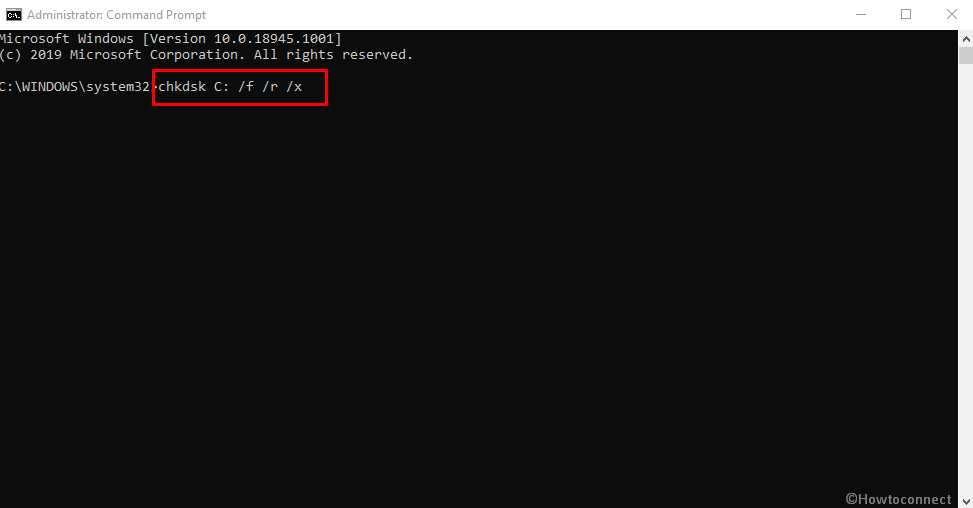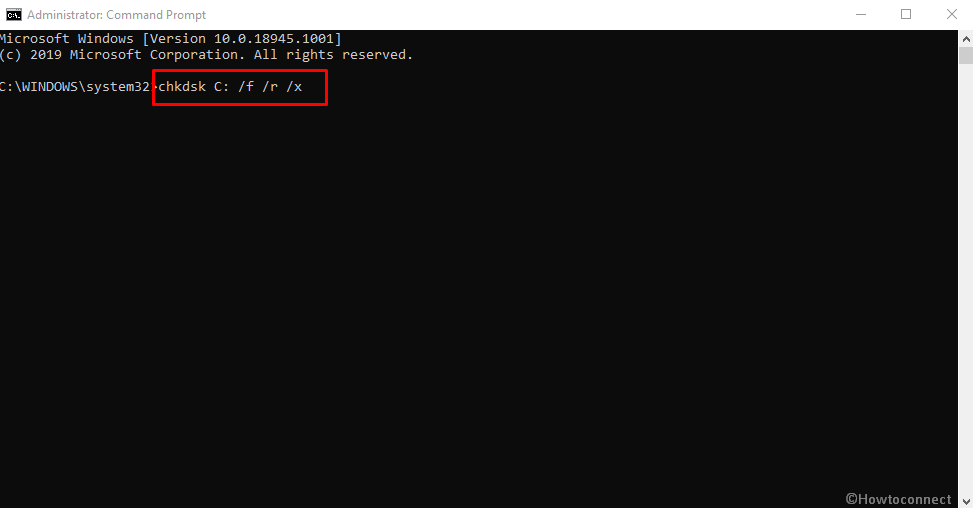 5] Boot the device in reliable Safe Mode
From the very beginning, after Windows started its journey as Operating System, it was a little bit shaky and indulged in issues. Booting in Safe Mode helped users to fix crucial times from that period. In this special Startup method, Windows load only basic programs. That heals actually so as the DPC_WATCHDOG_TIMEOUT Blue Screen Error. We will now give a try to Boot into Safe Mode. Here are the guidelines –
Press Win+I and let Windows Settings appear.
From the app UI, select Update & Security.
When the consequent page shows up, choose the Recovery from the left overlay.
Jump up to the adjacent right, reach to Advanced startup.
Do a click on Restart now button to initiate rebooting.
When Windows completes cycle of restarting, it will prompt to select the next step. Choose Troubleshoot from appearing screen.
Proceeding forward, make a click on Advanced options and subsequently hit Startup Settings.
Choose Restart after Windows tells you that the device can be restarted with "Enable Safe Mode".
While signing back in after restarting the second time, Press f4 in order to Enable Safe Mode.
6] Scan and Dismiss malware in Window Security
Tech developed world may have given you lots of relaxation but unfortunately are we not safe enough. The Web is full of malware and they are waiting in disguise to harm you. Whenever a user performs a click in malicious link, virus gets entrance to the system. Prior to that, they deteriorate the system resources and corrupt DLL files also. In the response, DPC_WATCHDOG_TIMEOUT BSOD Error occurs in the OS. Microsoft has introduced Windows Security to dismiss these malware. You can rely on this app and proceed with the below guidelines –
Hover the cursor to right most corner of Desktop and click on Show hidden icon.
When a tray spreads, choose Shield icon and let Windows Security to open in an independent window.
From the visible App area, Select Virus & threat protection from left pane.
Move to the adjacent right and click Scan options link.
After all the methods being available, hit the radio button before Full scan.
Moving a little, do a click on Scan now option and let the process begin.
After the detection gets finished, you will see the result in display. Hit Clean threats option if any virus traces out.
On the following window, select Remove first and then Start actions.
When this process ends, all the malware will be deleted and the system will be safe.
7] Update Windows 10 by installing all patches
Every single update patch whether being a part of major or cumulative consists of latest features and most importantly bug fixes. As an outdated Operating System is weaker in status, can easily gets affected by DPC_WATCHDOG_TIMEOUT. Therefore, you need to install these patches prior to being available in Settings app. Before proceeding, make sure you are using a speedy internet connection. That will reduce the time consumption. In case of using Mobile Hotspot, disable Metered connection. Later on, move with the below steps –
Open Settings app.
When it is upfront, rush to Update & Security region and eventually do a click on it.
Once the next page loads, click Windows Update from the left pane.
Jump to the corresponding right and make a click on Check for updates. Ignore if you see a dialog like "You're up to date".
Follow the instructions further such as Restarting time to time until it gets installed.
8] Clear up Junk files in Disk Clean Utility
Producing junk files are pretty common and these are basically useless after a certain period of time. Since they are stored in the Disk Drive, occupy space in it. When they grow bigger, the space taken gets huge as well. In this way, storage gets low and functionality deteriorates. As for making little space out these files, we can delete them. Disk Cleanup tool will be handy so far in this task. Here is how to proceed –
Press Windows key type Disk cleanup and then hit Enter.
In a moment, a small dialog box will pop up asking to select the drive where you want to carry out cleaning.
Choose C: by clicking on the dropdown menu and also hit Ok button from dialog.
After a while, Disk Cleanup Utility arrives on display. Move down and select Clean up system files option.
The previous small popup dialog will appear again. Select C: in the same way before and also Press Enter.
After the Disk Cleanup for C: is available, proceed to Files to delete section.
Mark all the checkboxes here only except Downloads.
Next is to hit Ok button to start the removing process.
9] Deploy the default Winnows Blue Screen Troubleshooter
We have mentioned earlier that, DPC_WATCHDOG_TIMEOUT BSOD Error is very dangerous. To some greater extent, it can damage the whole system as well. To prevent this fatality, Microsoft introduced Blue Screen Troubleshooter utility. This is a default tool and you don't need to install anything. Just move with below method –
Open Windows Settings (Win+I) and select Update & Security.
After the consequent page appears, select Troubleshoot from the left-hand side.
Move to the corresponding right and opt out for Blue Screen option.
Once found, expand it by making a click.
Hit Run the Troubleshooter once visible.
Upon carrying out , this default utility will fix BSOD issues in your device. Thus, you can have a flawless system afterward.
10] Update all the problematic drivers to solve DPC_WATCHDOG_TIMEOUT
In every BSOD cases we have come across, defective and outdated Device Drivers came out as prime cause. You need to work on this arena once detected as affected. Windows Device Manager makes the task a lot easier. You can detect those problematic drivers in Yellow indications. To update them, follow the below procedure –
Invoke the Taskbar search pressing Win+S keys together.
Once it arrives, type devmgmt.msc in the "Type here to search" area.
Select Device Manager when available under Best match.
When the app in upfront, have a close look in the console.
If you find a mark of exclamation in a device, expand it by clicking.
Next is to perform a right click on driver having Yellow sign only.
When the options show up, select Update driver option and let the process begin.
Perform the further tasks according to instructions available on display.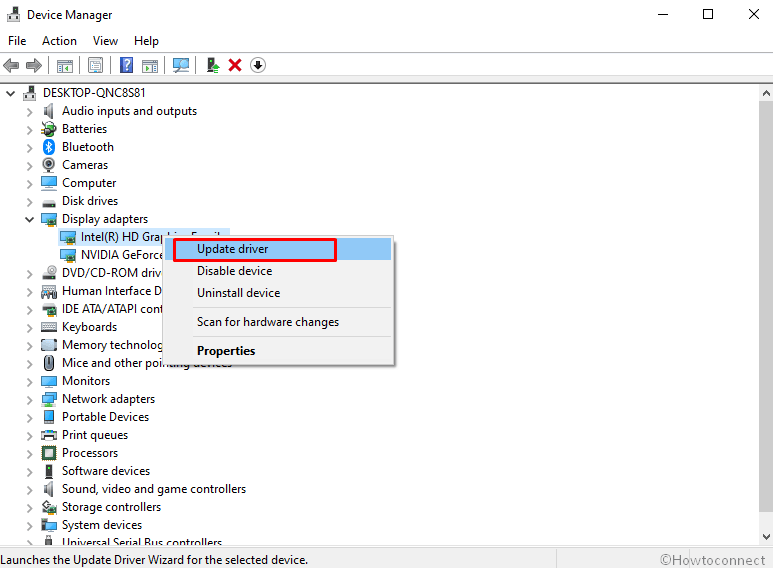 11] Fix up corrupted system resources using sfc /scannow command
Corrupted system resources and missing DLL files do lots of damages. DPC_WATCHDOG_TIMEOUT Error is the most costly one. We can fix this mess using a single tool. System File Checker in that utility and it works within Elevated Command Prompt. Here is how to deploy the workaround –
Open the Taskbar Search like the previous workaround.
Type cmd.exe in the typing area provided here.
Make a right click on Command Prompt when showing up in the result.
Choose Run as Administrator option from menu.
When UAC prompts for permission, give consent choosing Yes.
Once the black window comes in view, type the underneath command at the base of blinking cursor –
SFC /Scannow
Execute System File Checker by pressing Enter key.
The utility will now detect and fix all corrupted windows resources and DLL files automatically.
You need to sit patiently and let it to complete normally.
Once it completes, perform restart to windows and upon returning back, check if the error has resolved already.
12] Uninstall programs of equal functionality
Similar programs when staying close to each other can have a tendency to create conflict. The result is losing necessary resources from system. As we know the ultimate impact, a Blue Screen error like DPC_WATCHDOG_TIMEOUT. We can restrict these programs from collision by uninstalling one. The process is as follows –
Call up Run dialog pressing Windows and R keys at the same time.
When the Wizard appears, type appwiz.cpl in the search box.
Press Enter key to invite Program and Features window.
Move forward to find the programs colliding in the listed apps.
When found, make a right click on them.
Choose Uninstall when showing up.
After uninstalling process gets over, restart device initially.
After returning to desktop later, check if the error exists.
In case being negative, install the removed application if necessary.
13] Perform cycle of disconnecting-reconnecting Additional Hard Disk
Some people have reportedly discovered DPC_WATCHDOG_TIMEOUT Error in Windows 10 after connecting an additional Hard drive. This is hilarious and pathetic as well since we need such device quite often. Well, the issue is negotiable easily. Disconnecting temporarily heals the error and then we can reconnect device using below instructions –
For the first attempt, remove additional Hard disk from computer.
Place all of them in an accessible and safe location.
Restart the Windows now using usual procedure.
After completing the restarting, check for the DPC_WATCHDOG_TIMEOUT BSOD Error in your system.
If nothing appears, plug the device back in.
At this moment, open the web browser from Desktop.
Perform a visit to its maker's website.
Download and Install the updated drivers for web page.
14] Delete troublesome Windows Update Files
Windows updating process usually carry out through Settings app. The process is well furnished and flawless. Usually, there is no chance to end up in discrepancy. But exceptions are there as well and that will call BSOD error in the system. To limit this risk, we need to uninstall those defective files using below guidelines –
Launch the Windows Settings app first using any method like before.
After the app appears, head to Update & Security region.
Make a click on the tile to load the additional settings page.
When the following window loads, select Windows Update residing in the left pane.
Jump on to the right side and perform a click on View update history link available.
By default, a new "Installed Updates" page will show up.
In the current window, find out the latest received patch.
Select it first and hit Uninstall option showing in the top ribbon.
Keep following the tasks shown in desktop until these are deleted completely.
15] Uninstall Third-Party antivirus to fix DPC_WATCHDOG_TIMEOUT
Virus causes serious fatalities and we have the means to reduce the effect. Anti-virus solutions are pretty common and they are free mostly. But in the era of Windows Security, all of them are unnecessary. Furthermore, being a third party app, they often become a cause of DPC_WATCHDOG_TIMEOUT. So, we can remove them from the system and that will be wise. Follow the below instructions to accomplish the task –
Launch Settings and select Apps.
Now from there, choose Apps & features located at the left pane.
Jump to the corresponding right side and find out Third-party antivirus programs listed.
Make a click on it for expanding and select Uninstall from the extended pane.
If UAC asks for permission, select Yes to proceed.
Follow the guidelines available on display next to remove the tool completely.
16] Perform System Restore to undo recent changes
Every time we opt for installing an app or uninstall some, it traces out Windows Registry. This is a sensitive part of the system and tweaking might be risky often. However, if you are getting DPC_WATCHDOG_TIMEOUT error after making some changes, can revert back to the previous state. The mean is performing System Restore. If you don't have a previously created Restore point, can ignore this process. In case you have one, follow the below process –
Make a right click on Start menu and select Run from there.
Subsequent to opening the dialog, type rstrui in the blank text box.
Press Enter key and OS will open up System Restore immediately.
From the wizard appearing, select Show more restore points.
When all the points are available, select only latest one.
Hit Next option to continue.
When the resultant window appears, choose Finish to start restoring process.
17] Rectify the defective Windows image files
DPC_WATCHDOG_TIMEOUT BSOD Error might be an effect of defective Windows image files in some extent. To fix these resources, we can use the DISM tool. For that, we have to enter into the Elevated Command Prompt. Rest process is as follows –
Perform a right click on Taskbar and select Task Manager from the appearing menu.
When the app opens, choose File located at the left upper end.
Hit Run new task option from there.
When Run dialog opens, enter "cmd" in the empty text area.
Check the box saying "Create this task with administrative privileges"
Once you Enter key now, will be guided to Elevated Command Prompt directly.
In the Dark window appearing, type the following command –
DISM.exe /Online /Cleanup-image /Restorehealth
Activate the Deployment Image Servicing and Management (DISM) tool pressing Enter key.
This utility will rectify all the troublesome windows image files eventually. The process may be a lengthy one.
Once ends, restart the device and when signing back in, perform an inspection for BSOD error.
All these Workarounds are effective and should work for resolving DPC_WATCHDOG_TIMEOUT BSOD Error. In case you are failed to do so, can re-install the Windows 10. That will be the last resort and you can get rid of all issues once done accurately.
Before moving, connect the device with an internet connection. Save a backup for all necessary files most importantly. If you don't feel confident, ask help from professionals.
Methods:
1] Disable Automatic Restart
2] Update BIOS
3] Fix Memory issues immediately
4] Settle down bad Sector in Hard Disk
5] Boot the device in reliable Safe Mode
6] Scan and Dismiss malware in Window Security
7] Update Windows 10 by installing all patches
8] Clear Junk files in Disk Clean Utility
9] Deploy the default Winnows Blue Screen Troubleshooter
10] Update all the problematic drivers
11] Fix corrupted system resources using sfc /scannow command
12] Uninstall programs of equal functionality
13] Perform cycle of disconnecting-reconnecting
14] Delete troublesome Windows Update Files
15] Uninstall Third Party antivirus application
16] Perform System Restore to undo recent changes
17] Rectify the defective Windows image files
That's all!!
Utility tools to solve this BSOD:
Repair any Windows problems such as Blue/Black Screen, DLL, Exe, application, Regisrty error and quickly recover system from issues using
Reimage
.