Microsoft added ASLR to the Windows Defender Exploit Guard in Windows 10 and 11. In the previous versions, like, Windows 7 and Vista, you had to install Microsoft EMET to run this feature. But now you can enable the same using the App & browser control section of the security Windows Defender Security Center without having a dependence on EMET. ASLR is the short form of Address Space Layout Randomization that executes codes on the OS using a random memory address.
But unfortunately, when users go to turn on this feature system-wide, a bug makes it unable to create adequate random data to start application binaries in random memory areas. As a result, it lets the users open to banal code reuse attacks. However, you can Enable ASLR in Windows Defender fixing up a little problem. If ASLR fails to perform after enabling it from Exploit Protection Settings, then you need to properly configure Windows Registry. Though Microsoft is expected to resolve this issue in the upcoming patches, until that time, you can enable it by performing a Registry tweak.
Way to Enable ASLR in Windows Defender
The process is as follows:
Step-1: Type in notepad in taskbar search and press Enter. Here, create a script by inputting the following texts into Notepad –
Windows Registry Editor Version 5.00

[HKEY_LOCAL_MACHINE\SYSTEM\CurrentControlSet\Control\Session Manager\kernel]
"MitigationOptions"=hex:00,01,01,00,00,00,00,00,00,00,00,00,00,00,00,00
Step-2: Once you have copied the entire text correctly into Notepad, click File option on the top and from the submenu select Save as. Save this file with a .reg extension such as ASLR.reg.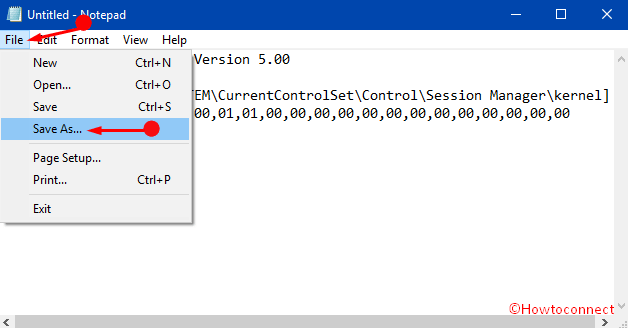 Step-3: Go to Windows search and type in regedit and press Enter when you notice the same command. 
Step-4: This opens the Registry Editor after selecting Yes on UAC prompt. Stay in the Registry window, click File option in the menu.
Step-5: Now from the dropdown, click on the option Import.
Step-6: Navigate to the location where you have stored the reg file in Step 2 above. Select the ASLR.reg file and click on the Open button to import the file.
Step-7: Finally, you notice that the file you have created previously with .reg name will be imported.
Reboot your PC and enjoy the feature. This is how you can fix the bug as well as Enable ASLR in Windows Defender in Windows 11 or 10.
Conclusion
Address Space Layout Randomization or ASLR is an important aid to Windows Defender in order to disburse the codes. Due to the attack of a malicious invader, this service is in danger and on the verge of a wreck. But we can make this great option functional again by fixing the bug only. Therefore we have discussed how to Enable ASLR in Windows Defender. This procedure is found to be effective in most cases and hopes it will be helpful for you too.