An error, ESENT Event ID 455 has been appearing in in the Event Viewer for many Windows versions including Windows 10 1903. Several users reported that after updating to build 18362.86 the issue occurred. This error is of cosmetic nature, but you can fix it quickly.
The main reason behind this problem is Windows wants to log something, but it can not because the EDB.log is missing. You could assume that the following path doesn't exist –
svchost (2844, R, 98) TILEREPOSITORYS-1-5-18: Error -1023 (0xfffffc01) when opening log file C: \ WINDOWS \ system32 \ config \ systemprofile \ AppData \ Local \ TileDataLayer \ Database \ EDB.log
ESENT Event ID 455 Error Message on Windows 10 1903 Solution
Here is how to fix ESENT Event ID 455 Error Message in Windows 10 1903 –
Step-1: Open File Explorer and navigate to "C: \ WINDOWS \ system32 \ config \ systemprofile \ AppData \ Local".
Step-2: Right click on an empty place and select New => Folder.
Step-3: Name this folder TileDataLayer. If it already exists leave it and move forward.
Step-4: Now open TileDataLayer and create a folder named Database.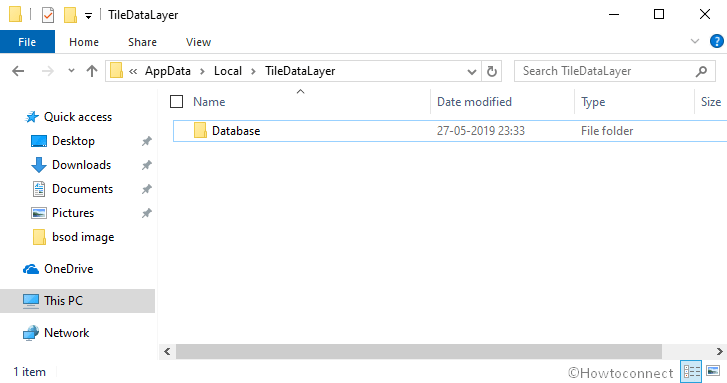 Step-5: If you are eager to know what happens to it leave it and wait for approximate 10 minutes.
You will find that the EDB.log and four other log files are automatically created and ESENT Event ID 455 Error Message in Event viewer is fixed and no longer occurs.
However, it isn't hard and fast that when the Database and TileDataLayer folder doesn't exist you will encounter this issue. Sometimes their absence doesn't lead to the error message.
Important – As already written above The bug is cosmetic and does not hinder the performance of Windows 10 1903 in any way. Just no log files are created. Whoever does not look into the event viewer should not be worried. There is much logged in. For issues with Windows 10, you should first start the reliability history and look there, if there is a problem. Then you will be able to shift through the event viewer.
That's all!!
Repair any Windows problems such as Blue/Black Screen, DLL, Exe, application, Regisrty error and quickly recover system from issues using
Reimage
.