In this summer, adorn your desktop with Fabrics of India Windows 10 Themes published by Microsoft Corporation. The Eighteen sets of intricate embroidery of these versatile textures will be a feast for your eyes. Bring the Color rich textures and soothing creation right at your desktop applying this limited edition application.
Fabrics of India Windows 10 Themes is a true user-friendly as well as lightweight Microsoft Store app. It will cover up only 22.03 MB of your Hard Disk space. Though the theme has Photosensitive seizure warning, it doesn't have any age restriction to continue Downloading. Here are the steps to Get the app and Apply to desktop-
Fabrics of India Windows 10 Themes
Here is how to Download Fabrics of India Windows 10 Themes and set on your device –
Step-1: Go to this link and reach the official theme webpage.
Step-2: After loading the webpage fully,  do a click on Get option located in the right part and select Open Microsoft store.
Step-3: By default, Microsoft Store will unroll in a while showing the Theme.
Note – In case, this above procedure seems a little complex to you, can directly open the Microsoft Store first. Edit the search box and type Fabrics of India and then hit Enter key. When the result page is upfront, select the app from there.
Step-6: Hit the Install option from this page to begin Downloading.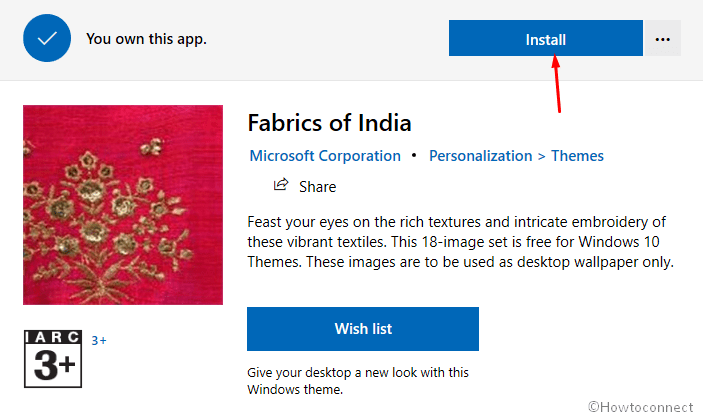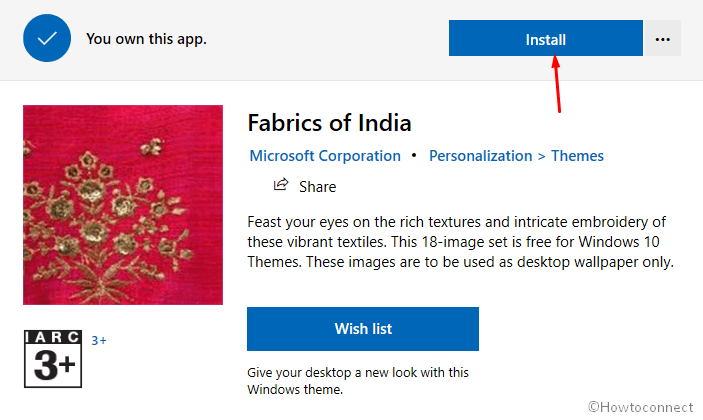 Step-4: Download progress will be visible in the Interface of this page and also in the Notification area of system tray. You can check from anywhere preferable.
Step-5: Installation will start just after finishing the Downloading. Once both of these processes end successfully, you will see a banner with Apply option shown in the UI.
Step-6: Select Apply and let it direct your Theme Settings page.
Step-7: In due course, reach out to Fabrics of India Windows 10 Themes. Click the app to Apply the images to the desktop.
System Requirements for the Windows 10 Themes
Your Device must have the below-listed minimum requirements in order to download and Apply this these to Desktop –
Device must run Windows 10 version 14951.0 or higher.
The architecture should be either of x86, x64, ARM, ARM64.
Windows should support English (United States) language for the sake of applying the Themes.