Emailing activity associates masses, no matter what business they represent. It brings more fun while accessing on iPhone devices. The way, iPhone Mail app updates, is the matter of concern. Because, people using iPhone don't want to sacrifice sheer pace of their devices. But, iPhone Mail App doesn't perform faster to match users expectation. If you meet with slowness issue of iPhone Mail Apps then you could fix it easily with tricks shown by me.
 Open 'settings' app from iPhone springboard. Then scroll down and select  'Mail, Contact and Calendar option.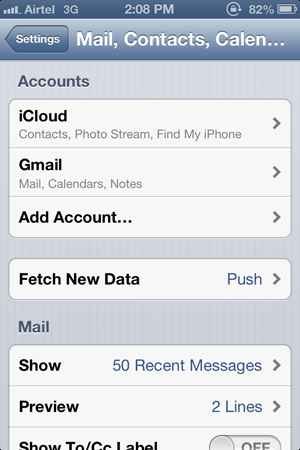 Now click on 'Mail, Contact and Calendars' option which gives plenty of options to Customize Mail Settings, Add, Delete email accounts.  Ignore all those options and choose 'Fetch New Data'. Here be sure that 'Push' option is enabled. The enable option fetch all new data to your iPhone. Here, setting asks you to fix an appropriate time to check your emails. Set the timing to access emails as per wish. Once you enabled this tick mark appears on opposite to the option.
At last go 'Advanced' tab option in the similar window. You will find that your added email accounts here. Turn to toggle into 'Fetch' option.
While these settings will be applied on iPhone Mail apps, you will get simply fast email notification on your iOS device.